TRAVEL BLOG
Friday, August 28, 2009
Travel Photo: Grand Pacific Hotel, Lorne - Australia
Wednesday, August 26, 2009
The Five Foot Way of Georgetown Penang
Tuesday, August 25, 2009
Featured Travel Site: FlightCaster
Friday, August 21, 2009
Travel Photo: The Sultan Abdul Samad Building, Kuala Lumpur - Malaysia
Wednesday, August 19, 2009
7 Recommended Tourist Spots in Japan
Guest Post by
japanican.com
7 Recommended Tourist Spots in Japan
Japan is a wonderful place to visit because it offers a unique kind of experience. It is filled with many cultural and historical destinations of great importance but it also offers modern attractions that are some of the coolest in the world.
Here are some of the tourist spots that you should put in your itinerary when you visit Japan.
Nikko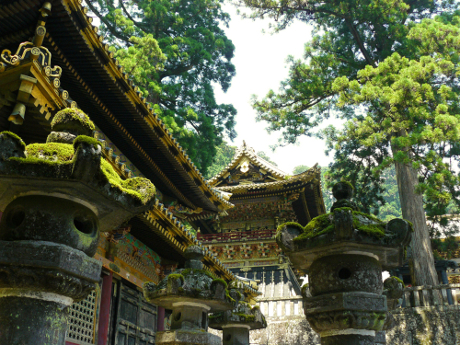 If you're in Tokyo, take the time to visit Nikko, which is considered a pilgrimage site for many Japanese. The shrine at Nikko is a UNESCO World Heritage site - this distinction is reason enough to visit it.
Nikko has been closely associated with Japan's long history especially the time of the Tokugawa Shoguns. Nikko is also surrounded by the National Park, which is quite beautiful.
Hiroshima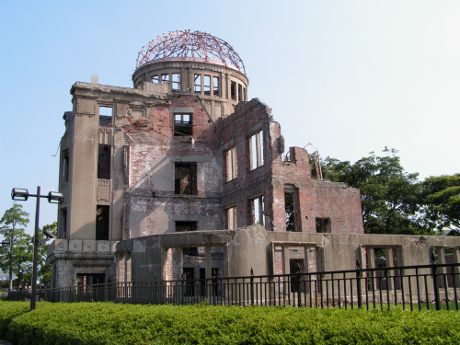 Japan has put an indelible mark on history because of World War II and the nuclear weapons that were detonated in both Nagasaki and Hiroshima. A trip to Hiroshima is always an emotional one.
Although it became known around the world for what happened there, it has now transformed itself as a peace center. Don't forget to visit the Peace Park and Peace Memorial Museum and pay respects to those who lost their lives during World War II.
Daisetsuzan National Park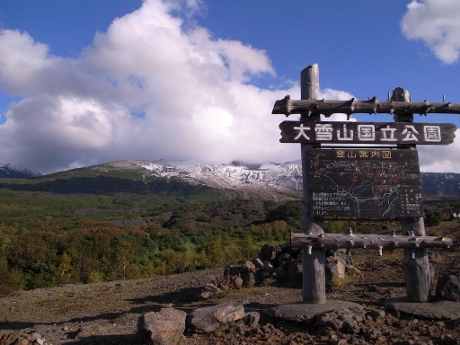 Daisetsuzan National Park
by
rouadec
Hokkaido is the northernmost of Japan's island chain. A trip to Hokkaido is also a trip to see some of the most breathtaking scenery in the country.
As proof of how beautiful Hokkaido is, visit the Daisetsuzan National Park, which offers visitors a good look at Japan's natural environment, untouched by man and civilization. Some of the activities that visitors can do in the park include hiking, which affords them great views the park has to offer.
Fuji Hakone Izu National Park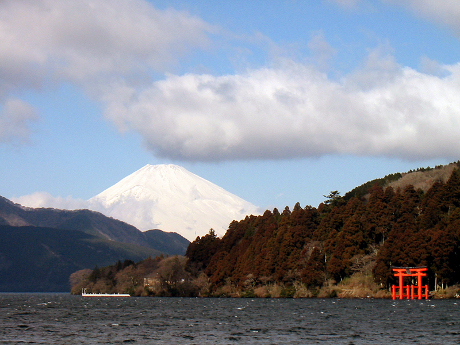 Mt. Fuji
by
jiashiang
One of the iconic spectacles of Japan is Mt. Fuji, the 12,000 foot volcano. This almost symmetrical natural wonder has come to be a symbol of Japan. Because of this eminent stature, anyone who visits Japan should book a tour to see Mt. Fuji for themselves.
Visiting Mt. Fuji can become a completely new experience by visiting the Fuji Hakone Izu National Park. Gazing at Mt. Fuji within the scenery of the beautiful park is a great experience. And since you're already in the Hakone area, visit the many hot springs and spas to relieve your tired muscles.
Ginza Shopping District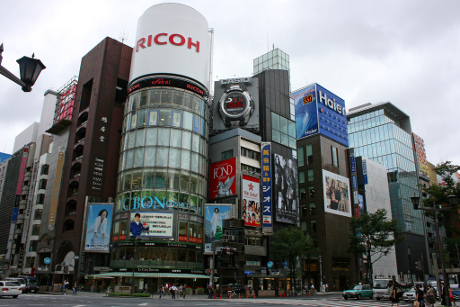 Ginza
by
pokpok313
Visiting another country is not all about going to tourist spots and landmarks. It's also about shopping. And when it comes to shopping, nothing can beat going to Tokyo's Ginza district.
This shopping district is the preeminent shopping area in Japan. This is the place where almost all of the prestige brands put up their stores. You'll find items from the world's top brands.
Sensoji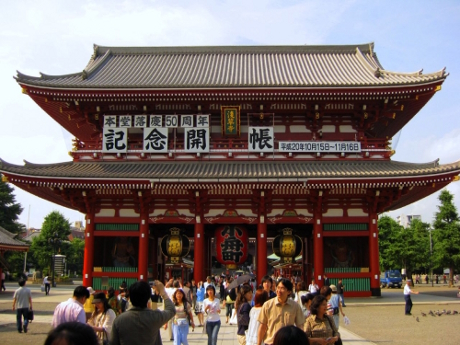 Sensoji-Gate
by
Chang'r
If you happen to visit Asakusa in Tokyo, then you should also check Sensoji, one of the most popular Buddhist temples in the whole country. The temple was constructed in the 7th century and since then has become one of the centers of worship for the Japanese. Going to the temple is an experience in itself.
The streets leading to Sensoji are packed with many stalls and stores that sell many items including souvenirs and different kind of traditional snacks. Exploring the area in and around the temple is quite easy and enjoyable especially if you do it on foot.
Another way to go around the area is by hiring a jinrikisha, a traditional rickshaw which literally means man powered vehicle. A jinrickisha tour usually takes 30 minutes and costs 8,000 yen for two passengers.
Kyoto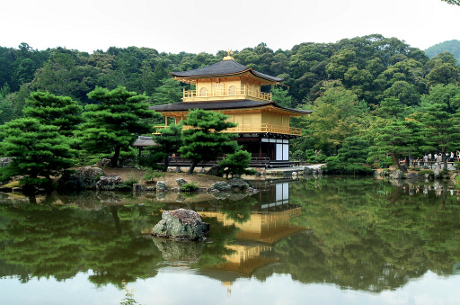 Kinkakuji Golden Pavilion
by
Freakland
The former imperial capital of Japan is also considered as a cultural mecca for people who want to experience and see the cultural richness of the country. Kyoto has numerous Shinto shrines, gardens, and temples that a one-day visit is just not enough to uncover what it has to offer.
Fortunately, accommodations in Kyoto are also quite easy to find, catering to various budgets and preferences.
Japan Resources
Japan's Official Travel Website
Book a Japan Hotel Nationwide
Labels: guest-post, japan, japanican
Posted by James Clark - editor of itravelnet.com
If you like this post, subscribe to the RSS feed
or Subscribe by Email

Tuesday, August 18, 2009
Featured Travel Site: Atlas Obscura
Monday, August 17, 2009
Become a blogger in a developing country
Friday, August 14, 2009
Travel Photo: Three Countries Corner, Basel - Switzerland
Tuesday, August 11, 2009
Featured Travel Site: AirportWiFiGuide.com
Saturday, August 08, 2009
British Readers: Sign the Airline Passenger Duty petition
Friday, August 07, 2009
Travel Photo: Lake Toba Ferry, Tuk Tuk - Indonesia
Thursday, August 06, 2009
Wicked Camper Review
Tuesday, August 04, 2009
Featured Travel Site: The Matchmaking Flight