TRAVEL BLOG
Wednesday, September 23, 2009
Kuala Lumpur Low Cost Carrier Terminal (LCCT)
Thursday, September 17, 2009
Tune Hotels - The low-cost airline of budget hotels
Friday, August 21, 2009
Travel Photo: The Sultan Abdul Samad Building, Kuala Lumpur - Malaysia
Monday, March 16, 2009
The Cultural Bazaar of Kuala Lumpur
Saturday, March 14, 2009
AirAsia X Flight Review - Melbourne to Kuala Lumpur
Thursday, August 21, 2008
Travel Deals: $199 AUD Flights From Melbourne to Kuala Lumpur
Malaysian low cost airline
AirAsia X
have announced their third Australian destination - Melbourne. To celebrate, AirAsia X are offering flights from RM 99.00 / AUD 199.00 one way.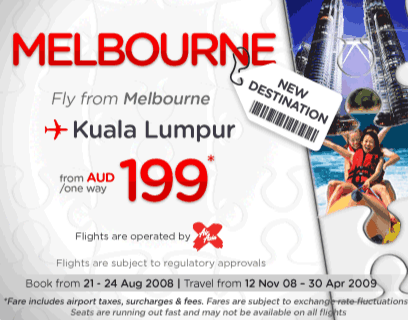 The flight operates from Melbourne Tullamarine to LCC Terminal, KLIA, Kuala Lumpur. The airfare includes relevant airport taxes, admin fee, insurance and fuel surcharges.
Booking Period : 21 Aug 2008 - 24 Aug 2008
Travel Period : 12 Nov 2008 - 30 Apr 2009
AirAsia X are expanding their long haul operations to include European destinations. Flights to the UK are expected to commence in early 2009, and AirAsia have said that they could offer $500 flights (AUD) from Australia to London.
Labels: air-asia, australia, kuala-lumpur, malaysia, melbourne, travel-deals
Tuesday, October 17, 2006
Ramadan in Malaysia
Monday, October 16, 2006
Bag of Coffee - Kuala Lumpur