TRAVEL BLOG
Thursday, February 19, 2009
Travel Photo: Oriental Pearl Tower, Shanghai - China
Tuesday, November 11, 2008
Shanghai Pudong International Airport
Bund Tourist Tunnel - I went so that you don't have to
The Bund - Shanghai
Bare Bones Butcher
Monday, November 10, 2008
Disappearing Shanghai
Public Toilets in Shanghai
Learning English in China
Never Mind the Melamine, Here's the White Rabbit
Sunday, November 09, 2008
Chinese Breakfast Burrito's
A cafe chain you probably won't be seeing in America
If you are looking for a coffee in Shanghai you can go to one of the many international cafe chains, like
Starbucks
, or you could go to the Taiwanese cafe chain
ecoffee
.
ecoffee store
I thought it was a starbucks when I first saw the shop from afar. Starbucks thinks so as well, and has
filed a complaint
over the matter. Here are the logos of ecoffee and Starbucks.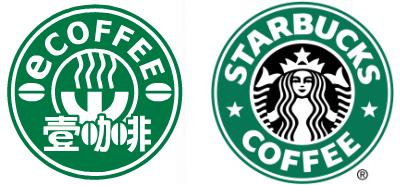 Like any good knock off, the coffee at ecoffee is much cheaper than at the original. A Tall Cafe Latte at Starbucks costs 25 RMB (about 3.67 USD). The same sized Cafe Latte at ecoffee costs 15 RMB (about 2.20 USD).
Labels: cafe, china, coffee, shanghai
Posted by James Clark - editor of itravelnet.com
If you like this post, subscribe to the RSS feed
or Subscribe by Email

Coffee of the day - Shanghai
Delivered by bike: Shanghai
Public Newspaper Readers
Saturday, November 08, 2008
Shanghai Food Market
Engrish: Ear Candie
Friday, November 07, 2008
Skyscrapers of Shanghai
Friday, October 31, 2008
Shanghai - Old and new