TRAVEL BLOG
Saturday, December 27, 2008
63K at the G
Monday, August 18, 2008
Olympic medal tally by per head of population
The Beijing Olympics has been a showcase of the rise of China, and this is reflected in the medal tally. Over the coming decades this tally will only increase as the Chinese better manage their population and sporting institutions.
With a traditional medal tally the powerhouse nations always top the list, but I often wonder about the smaller nations that over-achieve.
The Economist
have also pondered this and have produced a medal tally from the 2004 Olympics by per head of population.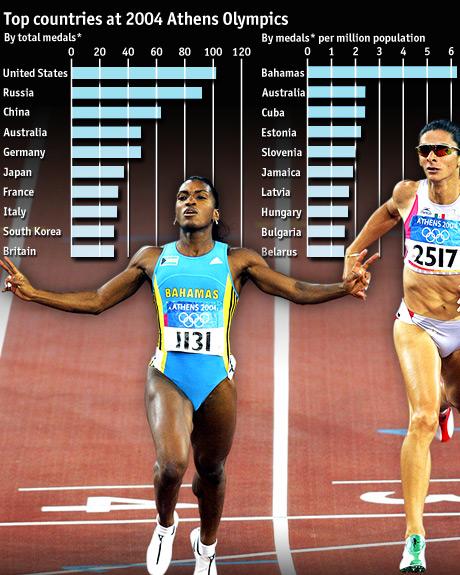 Note how the Caribbean and Eastern European countries fare.
Source:
Top Olympic countries
Labels: china, olympics, sport
Thursday, March 27, 2008
English Footballs Cultural Hegemony
Thursday, January 24, 2008
Everybody Loves Roger
Saturday, June 10, 2006
Come on England - A time to make friends
Friday, May 26, 2006
Australia v Greece - M.C.G
Sunday, March 19, 2006
Commonwealth Games Fish
Friday, March 17, 2006
W-11 Karachi to Melbourne Tram
Thursday, March 16, 2006
Melbourne Commonwealth Games
Monday, September 12, 2005
England Regain the Ashes - How Dreadful
Thursday, June 23, 2005
Wimbledon