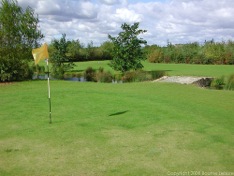 The world can be your golfing oyster but finding the perfect golfing holiday can be problematic; after all there are just so many great courses to choose from in so many destinations. If you're looking for a truly special golfing destination then here are 5 of the best golfing destinations the world can offer; each featuring brilliant courses in beautiful locations.
Scotland
While it's close you really can't deny that Scotland is one of the most perfect golfing destinations in the world. The course at St. Andrew's is legendary and one of the most exciting in the world to play. It's in an absolutely beautiful location with courses, club houses and hotels to die for. Beyond St. Andrews Scotland has some incredible golf courses and some of the most beautiful scenery in the UK. There's Kinsbarns, Crail and Lundin amongst dozens of great courses throughout the country. Beyond St. Andrews there's the beautiful city of Edinburgh to explore and further north the Lochs and Highlands which make this a truly perfect golfing holiday.
Florida
Florida's climate lends itself perfectly to golf in the sun and there are dozens of courses throughout the state. Some of the best are around the popular Orlando but you can also find incredible courses from Jacksonville, to Palm Harbour. The scenery of the golf courses is brilliant and the palm trees and sands make this a wonderful place to have a holiday. The towns and cities of the state are perfect for beach holidays and for golfing and there are some incredible courses. Mill Cove Course just outside Jacksonville is probably the best course but there are dozens of perfect places to play including Pembroke Lanes, Mangrove Bay, Calusa Pines and the Players Stadium course just to name a few.
The Algarve
The Algarve is a beautiful summer destination with spectacular countryside, beautiful beaches and incredible towns and villages to explore. It also has some of the best golf courses in Europe and a golfing tour holiday here is a great chance to relax, unwind and enjoy the scenery and the courses. Top of any list should be the courses around Vilamoura with Oceanico Old probably being the highlight. In Vilamoura you're within easy reach of 8 fantastic courses and can try the most exciting courses like Vale do Lobo and San Lorenzo; if you can drag yourself away from Oceanico of course.
The Costa del Sol
While it's a haven of cheap budget holidays and sunbathing Brits the Costa del Sol is also one of the best golfing destinations in Europe and perfect if you want a slightly cheaper but no less perfect golfing holiday. Thanks to a lot of development over the last 30 years you can find accommodation everywhere on almost any budget and some of the best courses in Europe. The most popular are probably Santa Clara, Marbella Golf and Country Club and Calanova but there also some great resort courses including Atalaya Park and La Cala. This is a perfect destination for golf and sun, sea and sand and if you want to travel with non-golfers they'll have plenty to do to.
Hawaii
As our final choice we decided that Hawaii has to be a perfect destination for a golfing holiday. Hawaii is completely spellbinding and beautiful with a tropical laid back atmosphere unlike any other place in the world. The volcanic country is wonderful and the courses are also exceptional. Highlights include Turtle Bay, Kapalua and the Grand Hyatt Kauai Resort but there are plenty of great courses and an atmosphere to fall in love with.