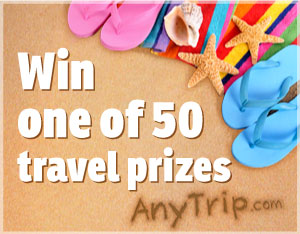 An easy travel competition here. You can win one of 50 great travel prizes. Prizes include an iPad 2, a Kindle and up to £500 to spend on booking a hotel or hostel with AnyTrip.com.
The travel competition is running until April 30th. To enter, just answer a simple question: Which of the following is a popular tourist attraction in Paris?
a. The Coliseum
b. Notre Dame
c. Tower Bridge
Easy, right?
AnyTrip.com is a fee-free booking service where you can book great-value accommodation around the world, as well as flights, tours and car hire through trusted partner sites. On confirmation you pay only 20% of the price upfront with absolutely no booking fees.
To find out more and enter the competition, please go to http://www.anytrip.com/win-travel-prizes/