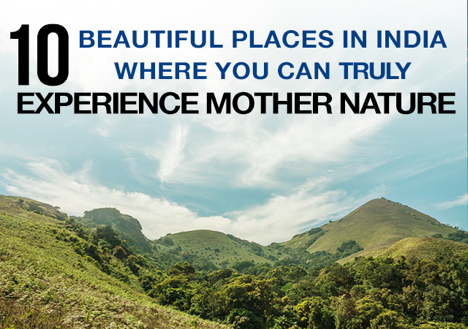 India has some of the most beautiful places that you must visit at some point in life. These places are closest to Mother Nature, can invoke the spirituality within you and make sure you go back home a refreshed and peaceful soul.  
Here are 10 places you would definitely love visiting:
1) Dudhsagar Waterfalls, Goa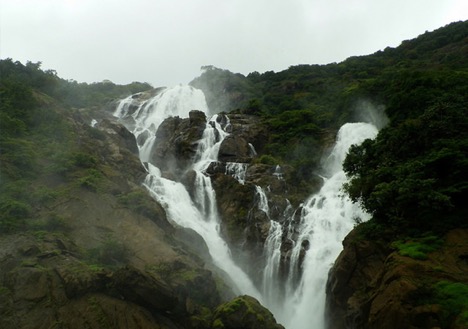 [Image by Kumaresh Rajarajan via Flickr.]
The magnificence of the 4th largest waterfall in India is beyond one's imagination. Perched high on the peaks of the lovely Western Ghats, it is no wonder how Dudhsagar Waterfalls got its name. Dudhsagar literally means "the sea of milk" in Konkani language and comes in three streams along a near vertical cliff to join a stunning green pool.
Located on the Karnataka-Goa border, these waterfalls come cascading down from a height of 600 meters and falls right into the Mandovi river. The breath-taking scenery along the waterfalls is truly magical and is accentuated even further by the crescent shaped valley strewn magnificently with tropical trees and plants. Dudhsagar Falls is not to be missed if you are travelling between Karnataka and Goa. 
How to reach: Dudhsagar waterfalls can be reached through several routes. One route would be from Goa through the Collem route, another would be from Carambolim through Konkan Railways and through the National Highways NH-4A.
2) Mangroves of Sundarbans, West Bengal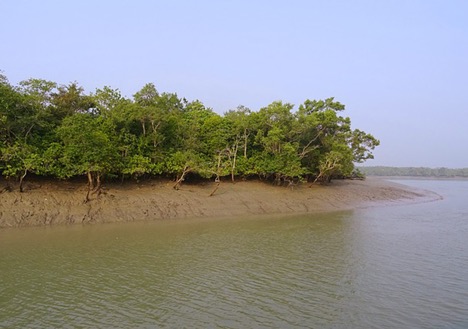 The Mangroves of Sundarbans is known simply as Sundarbans and plays an important role in protecting West Bengal from heavy winds and rains. Mangroves lie on the delta of Brahmaputra, Meghna and Ganges.
Sundarbans is well known for its exotic avian population, the Indian python, estuarine crocodile, Irawadi dolphins, endangered endemic river terrapin, and of course, the Bengal tiger.
Abundant natural resources can be found here, not to speak of the magnificent scenic beauty of the flora. Mangroves of Sundarbans come under the protection of UNESCO World.
How to reach: Sunderbans can be reached from Kolkata.
3) Umiam Lake, Meghalaya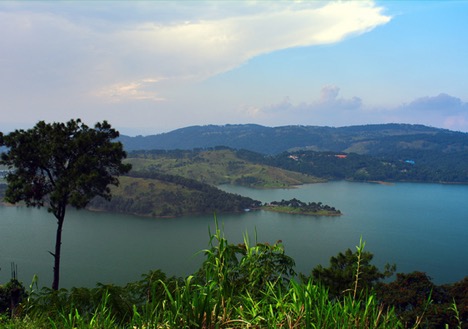 [Image by deepgoswami via Flickr]
The beauty of Shillong is best enjoyed when you visit Umiam Lake in Meghalaya. Literally 'Umiam' means 'water of tears'. The lake was created by damming the Umiam river in 1960, with a catchment area of 220 sq.kms. It is so huge, and believed to be four times bigger than Bermuda and San Marino.
Surrounded by coniferous trees of utmost beauty, the legend goes that the river was created by the tears of a sister who got estranged from her sibling while descending from heaven.
Boat riding, kayaking, water-skiing are some of the activities enjoyed by visitors. The residents earn their living through fishing and tourism. 
How to reach: Umiam Lake is located 15 kilometers north of Shillong.
4) Backwaters of Kerala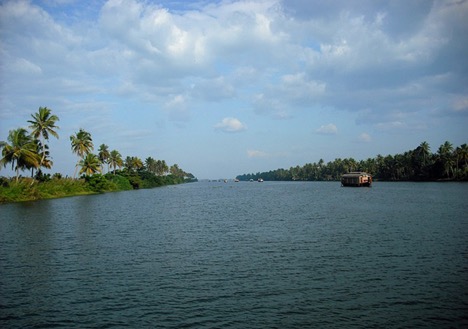 The chain of lovely lakes and brackish lagoons that lie in parallel with Arabian sea along the coast of Kerala is the most attractive aspect of the state. It is also the closest to Mother Nature that you can get. Every year millions of people go on backwater cruise along the network of 1500 kilometers of Kerala backwaters, consisting of 38 rivers, 5 huge lakes and several manmade and natural canals.
When you cruise along the tranquil backwaters, you can feast your eyes on the scintillating rolling hills, endemic wildlife and exotic bird population, observe the lifestyle of the friendly fisher folk and enjoy the magnificence of the dykes and bunds.
How to reach: Backwater cruises can be arranged from Alappuzha, Kottayam and Kochi. 
5) Coffee Plantations of Coorg, Karnataka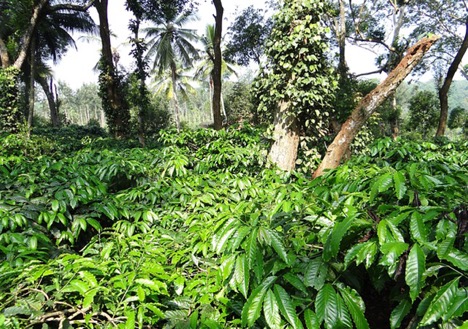 Coorg is well known all over India as the largest coffee plantation in the country. A walk along the alluring coffee plantations of Coorg is not to be missed. Along the way, you can enjoy the picturesque locales and some other attractions like Nagarhole National Park, Dubare Elephant Camp, Abbey Falls, Iruppu Falls, Namdroling Nyingmapa Monastery and many more. There are so many things to explore in Coorg, so you should definitely plan a trip there. 
How to reach: You can fly or drive to Coorg from Bengaluru (249 kilometers away) or get down at Mysore Railway station, 100 kilometers away.
6) Spiti Valley, Himachal Pradesh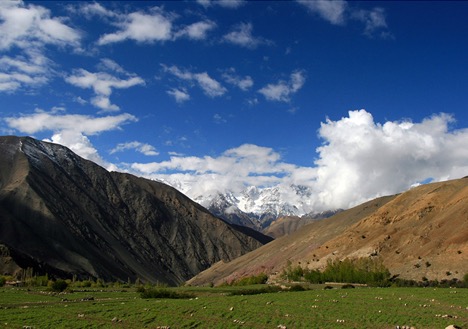 [Image by kanglapass via Flickr.]
Spiti Valley in Himachal Pradesh is a desert mountain valley, untainted and unexplored. Nature is truly at its best here, probably because it is so far away from the crowded city. This is more of an adventure destination rather than a luxury tourism spot.
Spiti is bordered by Ladakh in the north, Kullu and Lahaul to the south, Kinnair to the south east, and Tibet in the east. It is a pure haven with monasteries, quaint old villages and mountains and glaciers.
How to reach: You can take the Delhi-Shimla route to reach Spiti Valley, this is the most popular route; takes around 8-12 hours depending on traffic.
7) Mount Abu, Rajasthan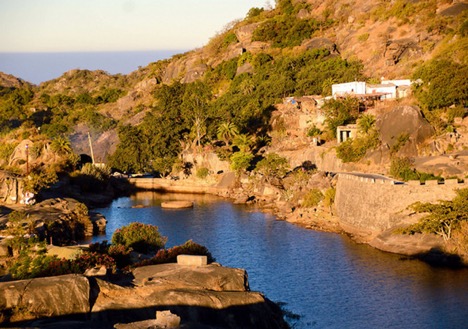 [Image by Brahma Kumaris via Flickr.]
Everyone who loves hill stations would have heard of Mount Abu, located in the Sirohi district of Rajasthan state, along Gujarat border. It is a pristine, calm and serene place where you can enjoy spending time with your family. Its relatively cool climate is another attraction. You can head down to Nakki Lake for boating and taking nature photographs.
How to reach: Mount Abu is 475 kilometers from Jaipur. You have to reach Aravalli range in Sirohi.
8) Tea Gardens of Munnar, Kerala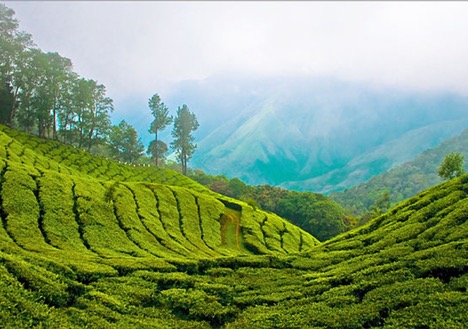 [Image by Bimal K C via Wikimedia.]
The verdant tea estates of Munnar attract millions of people every year. Thanks to its undulating terrain, you can see acres and acres of luscious green tea estates. The view is incredible during sunrise, and you shouldn't miss the refreshing aroma of fresh leaves in the morning dew.
There are several spots in Munnar where you can spend solo time with nature without bothered about being near crowds of people. While Eravikulam and Mattupetty are places you shouldn't miss, Kolukkumalai is a place near Munnar that would take you closer to nature.
How to reach: Munnar can be reached via bus or road travel. It is just 125 kilometers away from Nedumbassery airport. 
9) Valley of Flowers, Uttarakhand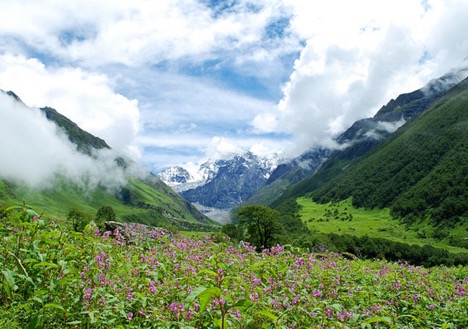 [Image by Alosh Bennett via Flickr.]
The picturesque and serene valley of flowers with its incredible collection of exotic flora and fauna at Uttarakhand at an elevation of about 3,658 meters above sea level is a sight to behold. The National Park is situated on the second core zone of Uttarakhand's Nanda Devi Biosphere Reserve. 
How to reach: Head to Bhyundar Valley at Nanda Devi Biosphere Reserve at Govindghat near Alakananda River; a little trekking is required.
10) Malshej Ghat, Maharashtra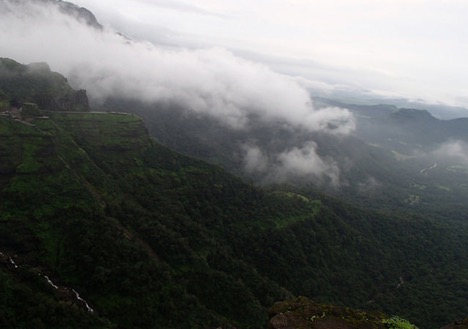 [Image by Aditya Patawari via Flickr.]
This mountain pass in Western Ghats region lying along the Pune district of Maharashtra is as picturesque a place as you can wish for. This pass is a haven for trekkers and mountain bikers.
How to reach: Malshej Ghat is well connected by rail and road. You can get down at Kalyan Railway Station at Malshej Ghat, 85 kilometers away. 
These are just some of the places in India where you can explore Mother Nature. If you are an avid traveler, you can traverse the length and breadth of the country and visit places that are brimming with beautiful greenery and landscapes!
Author Bio:
Sunu Phililp is the Inbound Marketing and Creative Head for Paradise Holidays, Cochin – a Kerala based tour operator. She loves reading, exploring new places and trying out different cuisines!