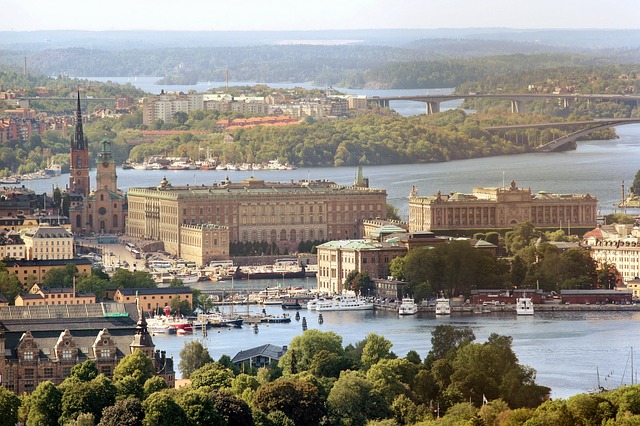 Think you know Sweden? Think again. You may know the lyrics to every Abba song, and you may have tried every dish on the IKEA restaurant menu – but that doesn't mean you're prepared to experience the full Nordic goodness of visiting the Scandinavian country in person.
There are countless things to enjoy about Sweden – from the country's immense natural beauty, to its modern city life – but to avoid certain cultural shocks, we suggest you learn the following fun facts about life in the land of meatballs, meese and Björn Borg.
A natural phenomenon known as the Midnight Sun
Sun still shining in the dead of night? Don't freak out – this is a completely common but confusing phenomena in countries like Sweden, Norway and Finland. Head as far up North as possible to witness the majestic midnight sun shine brightly. You're best bet to see this sky spectacle is to visit between May and July.
Swedes don't shy away from nudity
If you're not quite comfortable being naked in public, then we recommend you skip saunas, changing rooms, and even some beaches across Sweden. Pretty much every beach is a 'nudist beach' in Sweden as nudity is culturally acceptable. Swedes have no qualms about wearing knowing but their birthday suit amidst complete strangers – something which regularly happens when visiting a public sauna (often followed by a dip in the sea, or roll around in the snow in winter). You might get a funny look or two of you stroll in with your swimsuit on!
Pancakes for lunch…what's wrong with that?
Thursdays are pancake days (yay!) and we're not talking desert. We mean delicious Swedish-style pancakes for lunch. Savory is switched for jam and whipped cream. While Swedes are generally healthy individuals and conscious of their eating habits, you might be surprised to see school pupils, restaurant guests and families munching down pancakes with mounds of strawberry jam and sugary cream for lunch or dinner as if it were nothing more unusual than spaghetti.
Fermented fish (it's an acquired taste!)
If you think pancakes sound too sweet, then a different common Swedish speciality that might interest you is 'surströmming'. This fishy delight is fermented herring, to be eaten in the summer on crispbreads with sour cream and red onion. Why is this fermented fish only enjoyed in the summer, you may be wondering? Well, that's because this stuff is so stinky that it's often opened under water to reduce then stink radius. We admit that doesn't make it sound too appetizing, but if you are into salty, fishy goodness and distinct flavours, then you must give surströmming a try. The special dish provides such an olfactory overload that it is even on the list of prohibited items on the IATA flight travel rules, so don't try and sneak any on to a plane back home!
Swedes are serious about recycling
If you're not already an avid recycler then make sure you learn the difference between combustibles and recyclables before visiting Sweden, as you'll need to know how to sort your waste in order to escape the rightfully judgemental locals. As a rule, Swedes are very environmentally friendly, and recycling is taken very seriously. You'll be pleased to hear, however, that heading to the nearest supermarket with your empty bottles and cans can earn you some cash – an economic incentive for doing a good deed!
Monopoly is the name of the game
There are only four casinos in the whole of Sweden – and don't expect them to exude the same glamour and glitz of Monaco. The Swedish state has a monopoly on casino games (not to be confused with Monopoly slots…which are something you can play at casinos). We're talking an actual industry monopoly in which you can only play roulette, poker or slots at one of the four state-run casinos. If you're looking for a crazy gamblers' night out, then Sweden's far from the best destination.
Party hard…and expensively
It's not just the casino industry that is kept on a tight leash by the government – you also can't buy alcohol unless it's one of the state owned alcohol stores known as 'Systembolaget'. Want to pick up a bottle of wine on your way home to dinner on a Sunday? Too bad – the only place that sells alcohol is closed. The opening hours are strict, and you'll need to prove that you are over the age of 20 to purchase alcohol. Beers and ciders with low alcohol volumes can be purchased at certain supermarkets, but otherwise the only option besides Systembolaget is bars, clubs or restaurants which serve alcohol. We warn you in advance, however, that buying alcohol is not cheap, and you can expect a single cocktail to cost the equivalent of 13 – 18 dollars.
Cash is soooo last decade
Visiting Sweden from a country in which physical cash is commonplace can be strange. There's bound to be a degree of frustration when finding out that your notes and coins can't be used at most places. Countless services and establishment – ranging from public transport to local restaurants – simply refuse payment in ways other than cards or apps. Sweden is fast on its way to becoming a 'cashless society', and leads the way in innovative, electronic payment methods.
Equal parental leave
When in Sweden, you're likely to see many more Dads out with their kids in strollers than you'll see elsewhere. Where are all the 'Mums', you might be wondering? The equally common sight of fathers taking care of their toddlers is a reflection of Sweden's generous parental leave, coupled with the country's progressive take on gender roles. Refreshing, isn't it?
A country fueled by coffee!
The average Swede drinks 3.2 cups of coffee a day (that's second only to Finland at 3.5 cups a day) so prepare yourself for a caffeine-fuelled experience when visiting Sweden. And by the way, when we say 3.2 cups a day we are talking super strength black coffee that will give you an instant buzz, and possibly make you shudder from its bitterness. Definitely a far cry from the smooth vanilla bean latte you can get in America. While there are plenty of coffee shops offering more 'fluffy' drinks with sugar and cream, ordering a black filter coffee has the added benefit of something called 'påtarä. When you see that a coffee includes 'påtar', it means you can enjoy endless free refills.
Shoeless homes (practical and polite)
Please remove your shoes, thank you very much! If you are planning to travel to Sweden it's a good idea to leave your most embarrassing hole-ridden 'Christmas gift socks' at home. That's because your socks will be on display – often. It is considered extremely rude to go into someone's home with your shoes on, whether you're attending a dinner party, popping in quickly to pick something up, or stopping by for a (strong!) coffee. The reasons are part traditional, and part hygienic. Show your respect by removing your shoes at the door of a Swedes' home.
Did any of these fun facts about Sweden and its people surprise you? Irrespective of the occasional culture shock you might experience, Sweden is a fantastically beautiful and relaxing country to visit. Enjoy skiing and mulled wine in the winter, or cycling and strawberries in the summer. No matter the season, Sweden will offer a true taste of holiday!