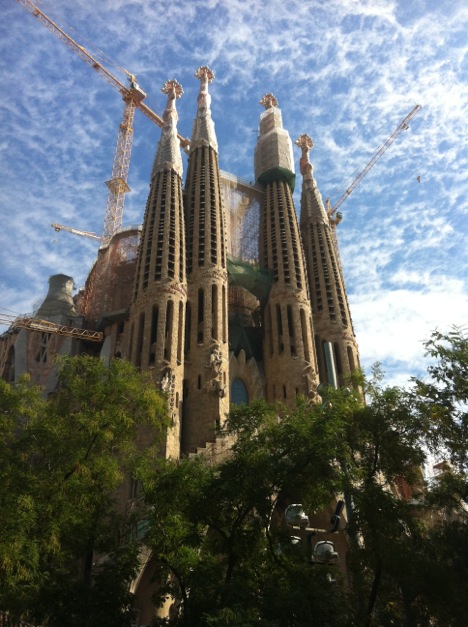 1. La Sagrada Familia. This is unquestionably Barcelona's most popular building. If someone is visiting Barcelona for the first time, you can almost be sure that they will stop at La Sagrada Familia. The cathedral was originally designed by one of Barcelona's most famous architects of all time: Antoni Gaudi. La Sagrada Familia is still in construction even though it was designed over 100 years ago. It is currently the only cathedral in the world that is still being built. Famous British author George Orwell hated the building and called it "the ugliest building on earth". Even so, it remains as Barcelona's most popular attraction.
2. Park Guell. It is no secret that there are dozens of beautiful parks in Barcelona, but Park Guell is a definite stand out. By far the most interesting and impressive aspect of Park Guell is its garden complex. The complex was designed by Antoni Gaudi. Park Guell forms part of the UNESCO World Heritage. This maze like park is bursting with architectural designs by Gaudi, and it will take hours to enjoy every last bit of it.
3. Santa Maria del Mar. This is another famous cathedral in Barcelona that was built "by the people, for the people". It's a very impressive and simple structure from the outside as well as the inside (when compared to other cathedrals in Spain). It displays the gothic style that was popular in Catalonia. The cathedral is massive and inside it is very luminous.
4. The Picasso Museum. Even though the Picasso Museum in Barcelona does not have any of Pablo Picasso's most famous paintings, it remains as one of the most popular attractions from the city. The Picasso Museum houses many of the artists. Many of Picasso's early sketches are displayed. The museum will most likely remain one of Barcelona's most famous attractions for years to come.
5. Gothic Quarter. Tourists are able to visit the Gothic Quarter and enjoy a very relaxing walk. The Gothic Quarters are near the Jewish Quarters and the Plaza Pi, Barcelona Cathedral and the Casa de Arcadia.
6. Aduana Vieja. Aduana Vieja is located in Plaza Palau. This building features a neoclassical design with a very clear rococo influence. Inside, you will find displays of Pere Muntaya's murals and art inspired by the classic adventures of Don Quixote.
7. Casa Milá. It was built between 1905 and 1910. Inside you will find lots of beautiful and inspiring sculptures. The building is also famous for its design.
8. Montserrat. Montserrat is not technically in Barcelona, but it is located only 40km outside the city. However, it is a favorite of thousands of tourists from all around the world. A Benedictine abbey built in the mountains, it is home of the famous "Black Virgin" of Spain.
9. Gran Teatre del Liceu. A world class concert hall. Plush red carpets and ornate cravings fill up the place. Many of the world's best musicians have offered concerts in The Gran Teatre del Liceu. Be sure to check out which music festivals are being offered while you're visiting the city.
10. Montjuic. Montjuic, which is also known "Hill of the Jews" is conveniently located on a hill in the city. In here, it is very easy to admire Barcelona's beauty. The main attraction in Montjuic is a fortress located on top of the place.