There's travel, and then there's comfortable, reliable, and luxurious travel. Marriott Hotels and Resorts exist around the world to provide travelers with a familiar and secure accommodation experience — but that doesn't mean all Marriott's are built the same. Though you can expect top-tier comfort and service at every Marriott establishment, the following lodgings are utterly unmissable for their unique views, architecture, style, and feel.
1. Wailea Beach
Your trip to Wailea Beach Marriott Resort will be as easy and breezy as laying on the sand or dipping in the surf. Tucked away from the hustle and bustle of the Big Island on a gorgeous corner of Maui, this Marriott offers serene views of the Pacific from your quiet room and your private beach.
2. Niagara Falls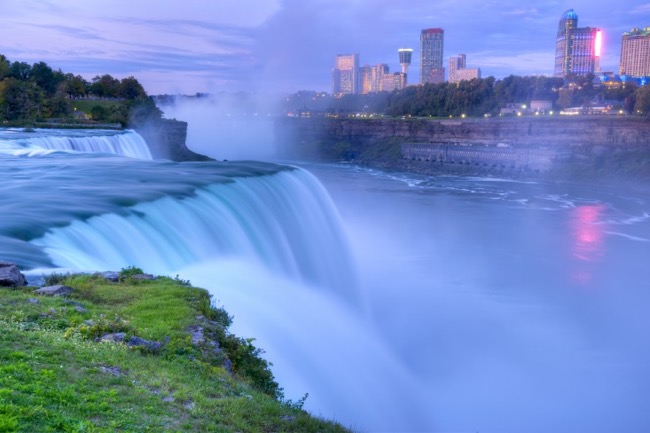 Niagara Falls has long been considered a wonder of the world — but the true wonder is Marriott Niagara Falls. This Marriott looks over all three of Niagara's waterfalls, so during the day you can relax to the sight and sounds of rushing water, and at night you can see the gorgeous illumination and watch the fireworks show in comfort.
3. Budapest
Budapest might not be a top vacation destination like Hawaii and Niagara Falls, but the Marriott in Budapest should place this historic amalgamation of cities on your bucket list. The hotel is located directly on the Danube, across from Buda Castle and near other important landmarks in the city. Compared to the outstanding architecture surrounding it, this Marriott doesn't look like much from the outside — but inside, you fill find the epitome of Hungarian elegance.
4. Praia D'El Rey
Portugal is a Mediterranean escape without the hassle of Mediterranean tourists. Praia D'El Rey Marriott Golf and Beach Resort provides all the warm-weather amenities you could ask for: an 18-hole golf course, a tennis center, and miles of exclusive beaches. Plus, busy Lisbon is just under an hour away.
5. CasaMagna
Cancun claims two Marriott resorts, but CasaMagna, the slightly smaller, beachfront option, is by far the better. Not only is CasaMagna in the heart of Cancun, just walking distance from the city's best beaches, restaurants, bars, and more, but this resort is drastically more deluxe than its sister.
6. Palm Beach
Admittedly, the Palm Beach Marriott is not located directly on this exclusive stretch of Florida's coastline. Instead, this resort and spa is situated on the even more exclusive Singer Island, which provides a respite from the higher-energy activities in the area. While the hoi polloi scramble for less well-appointed lodgings within walking distance of Palm Beach, you can retreat to a gorgeous Marriott room just a bit north on Singer Island.
7. Aruba

Most visitors to Aruba are looking for the perfect balance of excitement and relaxation, and the Aruba Marriott Resort delivers. Connected to Stellaris Casino and built on exclusive Palm Beach (no relation to the Palm Beach, Florida Marriott), this hotel can take you from heart-pounding games to soothing Caribbean breezes in no time.
8. Rotterdam
Widely touted as the best Marriott in the world, Rotterdam Marriott Hotel is impeccable in its style and service. Clean and modern design merged with high-tech amenities and prompt service makes for an ideal hotel. Plus, from this Marriott home base, you can explore all of Holland, which is leading Europe in fashion, architecture, art, and other critical cultural fields.
9. Grand Cayman
The largest island chain between Cuba and Central America — and still dependent on the British Crown — the Cayman Islands boast an inimitable culture that mixes Caribbean, Latin, and European elements. The Grand Cayman Marriott Resort is no different, providing the same style and walking access to the greatest attractions on the largest island.
10. Sochi
Not just the location of the 2014 Winter Olympics, Sochi, Russia is a stunning destination in its own right. Nestled in natural boxwood forests and cuddling the Black Sea, Sochi is a gem in a veritable crown of Russian travel spots, and the Sochi Marriott is the glittering diamond at its center. Utterly luxurious accommodations combined with world-class service — like chartered flights to and from Sochi — make the Sochi Marriott hotel a must-stay.
11. Novosibirsk
When you want to see Siberia, Novosibirsk should be your first stop. Thankfully, Marriott Novosibirsk will keep you warm and comfortable with a full-service spa, a Russian sauna, and an indoor, heated pool. There is no better way to get used to the biting wind of the Siberia than with cozy accommodations in a cool city.