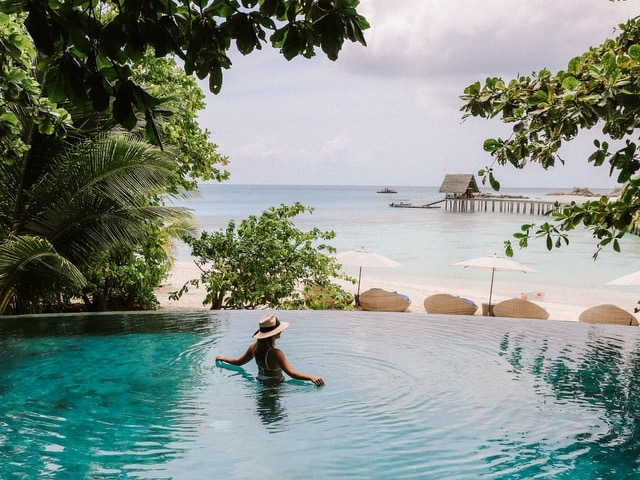 We all know that parking is often free at hotels as well as Wi-Fi. However, there are some free services at hotels around the world that you may not know about.
In this post, we have gathered a list of some of the free hotel services we discovered.
Get to the hotel for free
After booking your room, please check if the hotel provides a free transfer service from the airport or train station. This way you will save on public transport or taxis. After all, a trip to the airport or railway station is usually more expensive than getting by within the city.
Accept a compliment
Newlyweds know that if they loudly announce their recent marriage upon arrival, there is a chance to receive a gift – a bottle of champagne, a basket of fruits or a discount on spa treatments. We are not kidding, you may be offered to move to a more expensive and comfortable room for free. This is called a "hotel compliment". At the same time, it is not necessary to get married to receive a compliment. The occasion may be a wedding anniversary or a birthday. And perhaps some surprise will already be waiting for you in your room.
Get a baby bed
If you are travelling with a small child, ask for a bassinet or extra bed. The main thing is not to forget to inform the hotel that you have children. Write about it in the comments when booking. The service is provided if the room is spacious enough and there is room to put one more bed – this is done taking into account the fire safety standards that are strictly observed in hotels.
Ask for everything that is lacking for happiness
People feel happier in hotels. But, like at home, something is always missing for complete happiness: a corkscrew for wine, a set of dishes, hygiene items, threads with a needle, or a charger for a smartphone, which, of course, you forgot at home. Feel free to ask for all this at the hotel. Also: iron and ironing board, extra blanket or softer pillow. Some hotels have a special pillow menu to choose from. Or use the service "Preparing the room for bed": the hotel staff will straighten the bed and warm it up with an electric sheet, close the curtains, turn down the lighting in the room.
Tea before bed
An ordinary cup of strong tea is perhaps the most pleasant and important of all. It can be ordered to your room. Or get a kettle at the hotel so as not to torment employees with the same request every evening.
Wake up from a (someone else's) pleasant voice
Many travellers turn off the alarm on the phone without waking up due to fatigue. Ask the front desk to call you at the right time to wake you up. Phones in hotels usually ring loudly, and the staff is distinguished by caring perseverance: if you do not pick up the phone, they will call you back several times, or knock on the door. There is only one condition: check-in at the hotel must work around the clock. Please check this in advance.
Gym and spa treatments
Large hotels have gyms, saunas, swimming pools, massage rooms and other wellness facilities. There, you can not only relax alone but also enjoy the accompaniment of outcall elite London escorts (although that type of service is not actually free, wink wink).
Read at breakfast
It is good to read the fresh press, especially in another country, to keep abreast of the news. Not only do you stay informed but you also get to do something at breakfast. Most often, newspapers and magazines are provided to guests free of charge. How to read them (in English, French, Greek …) is the guest's problem. In addition to the press, there are small libraries in hotels sometimes formed from forgotten books so you can stumble upon something really worthwhile.
Borrow a treasure map
Internet outside the hometown is expensive, and there is no Wi-Fi everywhere – paper maps help out even in the 21st century. Ask for one for free at the hotel reception. They are printed mainly in guidebooks, which also list the main attractions, transport mode, the schedule of concerts, exhibitions and sports events.
Learn about discounts, ask for recommendations
In many hotels, there is a counter near the reception, where the surrounding cafes and restaurants post event announcements, as well as discount coupons. Ask the receptionist to recommend their favourite places: this way you can discover places where you can dine for a smaller price compared to the recommendations on the Internet. By the way, it is not necessary to book a table by yourself (especially if you do not know the local language); a hotel employee will also gladly make it for you. A satisfied customer is the best customer!
Print, scan, fax – all of a sudden it is necessary
Paper and office equipment have not yet been cancelled. It happens that you need to print, scan or fax something: return tickets, a copy of your passport, and so on. Contact the reception – they will help you.
Send a postcard home
A trifle, but nice. Postcards are sometimes sold at reception. They can be sent to friends or to you directly from the hotel. At the same time, you will save yourself the headache of having to find a post office. Mailing things abroad is sometimes more difficult than in the UK. You will have to pay for postcards and stamps, but the service itself is free.
Leave your luggage for storage
If you need to check out from the room, and there is still half a day or more to your departure, you do not have to walk around the city with a heavy suitcase or look for a luggage room. In almost all hotels, luggage can be left for the whole day after you have checked out. Specify where you can leave things: even if there is no luggage room, you will not be left in trouble and something will come up.
Finally, have them call a taxi
Ask to order a car, and you will not have to understand all the intricacies of the local transport market. In addition, hotels often have arrangements with the nearest carriers so you might get a cheaper ride.