Spanning several time zones and climates, Australia is huge. From sandy desert landscapes to sprawling coastal cities, this country certainly packs a punch for camping enthusiasts.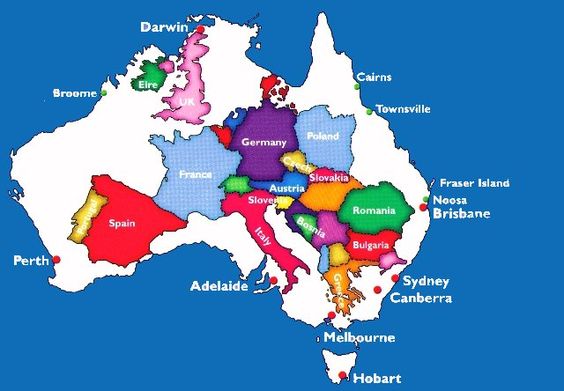 [Australian land mass compared to Europe. Image source: Pinterest.]
Buying camping gear or outdoor equipment for camping down under, is really easy when travelling from abroad. You can just as easily hire or buy a used caravan or campervan for road tripping when you get there.
Here are some of the best places in Oz to explore:
1. Uluru, Northern Territory
No list of the top places to visit in Oz would be complete without Uluru, also known as Ayers Rock. This huge chunk of rock looms over the Northern Territory, smack dab in the middle of the country.
It's definitely worth the visit; the monolith is known for its magical powers and has been a spiritual haven for travellers for thousands of years.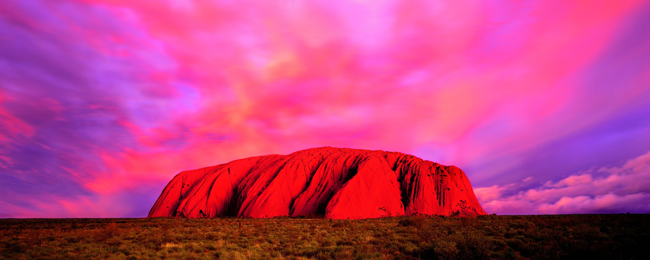 [Uluru photo by: Ken Duncan. Courtesy of The Age Shop.]
If you want to visit Uluru, your best bet is to make the five-and-a-half-hour drive from Alice Springs, the nearest big town.
When you get to Uluru, the view is spectacular. The rock shimmers in shades of red and orange, making it one of the most beautiful structures anywhere on earth. Just don't forget to bring your camera!
2. Great Lakes, New South Wales
Over in New South Wales, the Great Lakes region has been enticing campers for decades. Hawks Nest and Seal Rocks are just two of the places you should check out when over the course of your travels. They both boast white, sandy beaches that will take your breath away.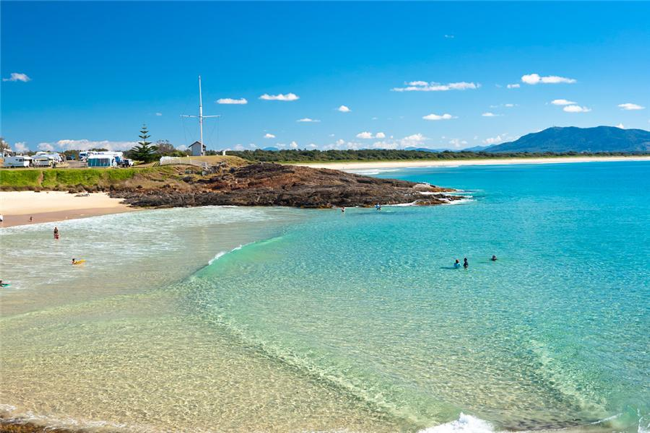 [South West Rocks & Seal Rocks, NSW. Image source: Pinterest.]
While the Great Lakes sit on the coast, there are a number of other places to explore inland. The region is one of the best for campers, with sprawling plots that come equipped with perks like Wi-Fi, heated showers and plenty of places to park your campervan, car or caravan.
If you're planning a trip to New South Wales and want to escape the hustle and bustle of Sydney, Australia's largest and busiest city, head to the Great Lakes region. It's one of the perfect places to explore the Great Australian Outdoors!
3. The Grampians Peaks Trail, Victoria
The Grampians Peaks Trail is one of Australia's most iconic walking routes. Situated in Victoria, the trail offers breathtaking vistas that span for miles in either direction, making it a great spot for hikers.
During your journey, you'll explore some of Australia's native wildlife, as well as jaw-dropping rock formations. The route snakes through various geological features. But, it's the views that keep people coming back year after year.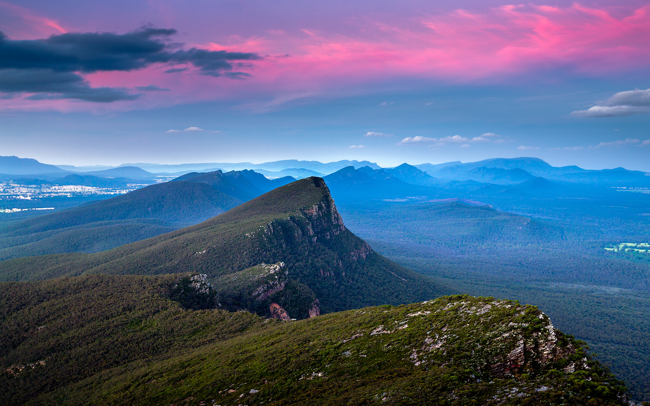 [Grampians Peaks image courtesy of; Park Trek Walking Holidays.]
You'll be able to park your campervan in one of the parking spots at the base of the route and purchase walking equipment from the shop.
A popular site with both locals and tourists, the Grampians Peaks Trail is also home to a number of different campsites. You can park your campervan, put up your tent and cook dinner by the fire.
This location is not as well known as some of the other places in Australia, but once you are here you'll be glad to have made the journey.