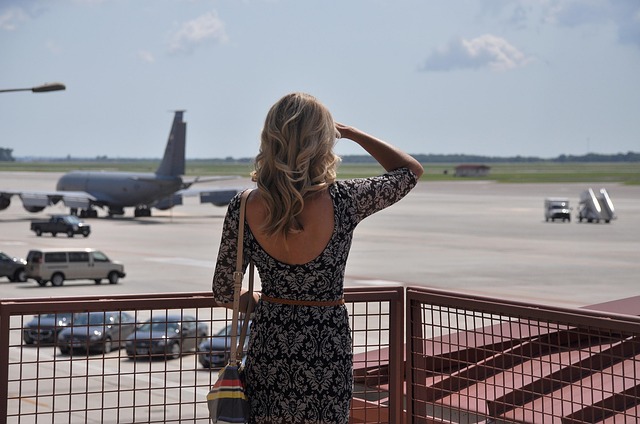 If you're the type to rack up frequent flyer miles, you've probably figured out that it's typically easier to pack light. Not only is it costly to check extra bags, it's difficult to lug large suitcases around the airport. Delayed flights and uncomfortable, cramped seating areas are only two of the frustrating first-world problems that frequent flyers have to contend with, but when you have one checked bag and a simple carry-on, it's undeniably simpler to face the inevitable problems that arise while traveling.
Celebrities are regularly photographed immediately upon landing, they more often than not, they look alarmingly polished. If you're wondering how they manage to do it, you're not alone. Fashionable jetsetters need not sacrifice style for comfort. In fact, many stylists have developed strategies to ensure that their clients can look chic without ever checking a bag. These three stylist-approved essentials are easy to integrate into any capsule wardrobe, and are guaranteed to help significantly cut down on the time you'll spend packing for your next trip.
The LBD.
How many times have you heard "What are you dressed up for?" while wearing a dress despite the fact that it took you a grand total of three seconds to slip it on that morning? Dresses are great if you wish to "trick" others into thinking you put a lot of thought into your outfit, which makes them a great choice for times when you're in transit.
Black is the best choice no matter whether you're headed to Tuscany or Tulsa, because you can dress it up or down. The little black dress is always in style and has a way of making every woman look chic no matter the setting. Whether you're heading to the farmers market on Saturday morning or stepping off a plane, you're sure to look just a little more put-together in a black maxi dress.
A basic cotton T-shirt.
Few pieces are more comfortable than a slouchy oversized T-shirt, whether you've stolen it from your boyfriend's closet or purchased it at your favorite local boutique. On long flights where you want to remain as comfortable as possible, a light and airy cotton tee is your best bet. You can easily pair it with a flowy maxi skirt, a pair of leggings, or light denim skinny jeans, and accessorizing with scarves and jewelry is simple.
The color is up to you, but stylists suggest coordinating it with the aesthetic of your destination. For instance, if you're heading to Paris, black is the obvious choice. London's gloomy skies might inspire you to wear heather grey. If you're flying somewhere exotic, on the other hand, such as the Gulf Coast, a brighter tone will lift your spirits instantly. You'll have so many places to see on Florida's Gulf Coast that you won't want to waste your time worrying about your outfit.
Cute boots.
No matter the season or your destination, this trend does not seem to be going anywhere. Wear a pair of flat booties if you'll be on your feet all day, or dare to bring out the low stacked heel if your flight is brief. Stylists recommend wearing your heaviest pair of shoes on the plane so they don't take up room in your luggage, and what's more, they will add a touch of edge to your outfit.
Because this trend is everywhere right now, you shouldn't have a hard time finding a good pair of boots in any shade of black or brown. Establish what type of trip you're going on and choose a style that fits the vibe. If you're flying out of state for a music invest, invest in a good pair of scuffed suede pointed-toe boots. If you're going to a job interview in Manhattan, try a pair of conservative black leather boots with a round toe.