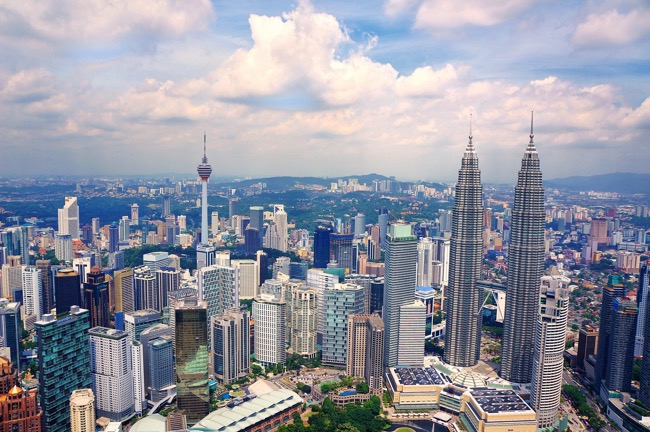 Malaysia is one of South-East Asia's most underrated travel destinations. Often overshadowed by Singapore, Thailand and Bali, this unassuming country has slowly gained prominence as one of Asia's must-visit travel destinations.
Whether it's the friendly people, delicious cuisine or even breathtaking vistas, Malaysia offers something for everyone. Blessed with a lovely tropical climate and highly developed infrastructure, tourists have slowly taken notice of this beautiful country
Here are some of the reasons why we believe that Malaysia should be your next travel destination.
1. The Food
Makan. The Malay word for eating, ask any Malaysian and they'll tell you that makan is life. Malaysians are renowned for their love of food. Being a melting pot of Malay, Chinese, Indian, Philippine, European and even Arabic culture, nothing comes close to Malaysian cuisine.
From skewers of satay lovingly roasted over a charcoal fire to bowls of bah kut teh served with plates of oiled rice, Malaysian food is a delight for the senses. Sweet, sour and savory tastes come together with a rich aroma makes for a truly unique experience.
Discussing the virtues of Malaysian cuisine would require an entirely new article so if you were to ever visit Malaysia, you should make Penang a destination. Known as the Pearl of The Orient, Penang has long been renowned for its delicious food.
Widely regarded by both local and foreign tourists as being a haven for street food, you'll be immediately assailed by a variety of sights, sounds and tastes as you explore the streets of this port city.
Just look for the stalls with the most locals, and you'll know that you've reached the right place.
2. The Night Life
Kuala Lumpur also known as the muddy confluence is the metropolitan capital city of Malaysia. Home to upwards of 1.8 million residents, the city of Kuala Lumpur is widely regarded as both the cultural and financial hub of the country.
Every night, the city takes on another life of its own around the various nightclubs, shopping malls and roadside eateries. It is here that Malaysians from various backgrounds and walks of life congregate to let off some steam after a hard day's work.
If you're into the exotic nightlife, there are hundreds of bars, speakeasies and nightclubs for nighttime revelers. Here, bartenders mix the latest concoctions for punters looking to dance the night away.
After that, you can always head over to any number of 24-hour eateries serving up hot, delicious Malaysian fare. With their love of football and sports, Malaysians can easily be spotted the night away at any number of these tea stalls. If you are interested in watching the latest football games to consider your SuperBowl wagers, then you will easily find a place to watch the events on a big telly.
3. The Exotic Geography
Despite being heavily modernized, Malaysia is still home to vast swathes of untouched and unspoiled nature. From pristine sandy beaches in Sabah with crystal clear water to emerald green forest reserves, there is much to see for nature lovers everywhere.
For example, Cameron Highlands is a hill station located on the ridge of the Titiwangsa mountain range with a huge farming community. Here tea and strawberry plantations stretch as far as the eye can see to form an endless sea of beautiful green.
If you're more adventurous, you could always tour the beautiful beaches of Sipadan. Located in Sabah, Sipadan has been blessed with ethereal white sand and azure waters making it the perfect tropical getaway.
As you've seen from this glowing description of Malaysia, you can see why even this jaded writer has become smitten by this exotic tropical paradise.
So maybe the next time you're looking to travel, why not choose Malaysia.