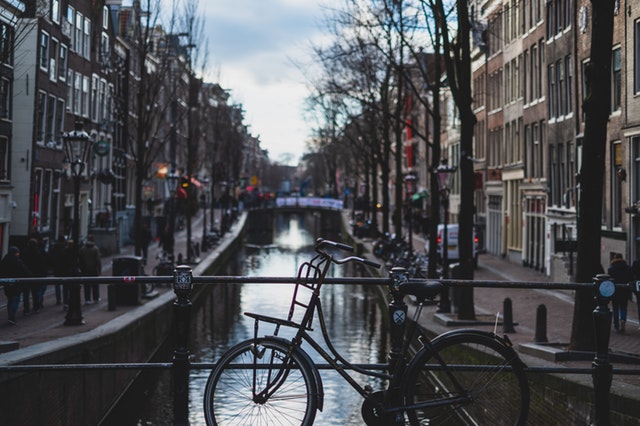 Amsterdam. One of the world's metropolises, a living network of delightful canals and row houses, thrumming with the never-ending vibrations of bikes, boats, and bars. A city of expats and global citizens, an international hub for music, art, software development and especially design, with a quality of life that's tough to match. A cat-loving town. Amsterdam is also home to one of Europe's most interesting and progressive coffee scenes, which has grown exponentially over the last decade. Let's delve further into some of the most unique and remarkable coffee experiences in Amsterdam.
Hempstory
Although smoking or vaping is prohibited here, this hemp-heralding lifestyle store deserves to be seen. It is a bar with a La Marzocco Linea Classic before anything else, and Bocca-trained baristas use it to prepare Bocca coffee beverages. Hemp milk is almost everywhere on the menu, while hot drinks come with a complimentary heart-shaped Hanf and Natur hemp biscuit.
From clothes to cosmetics and cookies to chips, much of the items you can buy here are made from or with hemp. The shop is well-stocked with CBD products from a world-renowned seed bank Sensi Seeds, whose founder, Ben Dronkers, also owns the neighboring Hash Marihuana and Hemp Museum, industrial hemp business Hempflax, and Hempstory itself.
Even while being in the middle of the Red-Light District, Hempstory leans to green design – more Broccoli than Pineapple Express when it comes to style – but still paying respects to the aesthetics of the surrounding cannabis and coffee.
Hutspot
You will both love and resent this locale because its amount of curation almost looks forced, and there has to be a boundary to how far a nice-stuff-appreciating individual will allow their buttons to be pushed. Every corner looks like an Instagram post waiting to be shared; you will consider this at least a couple of times as you pace through Hutspot. And, this was done on purpose. Or, you may wish to sit down and stay awhile. The choice is up to you.
In Hutspot you have the opportunity to soak in this beautiful life, handed to you on a plate that's better than any other plate you've looked at before, and especially better than the one you've got back home in your humble cabinet. The coffee here is locally roasted by Bocca, while the environment is somewhat North African, if you've ever been there and knew what it was like. While on the subject of locally-brewed coffees, be sure to check out home grounds.co if you need tips for brewing your own from the comforts of your home.
Tweede Kamer
The coming of specialty coffee to Tweede Kamer is yet another diamond in the crown of this coffee shop, the most elegant around when it comes to staff (both personable and professional) and interior design (art deco). Now, along with pre-rolled joint cones and plastic storages – many having a cannabis selection from Amsterdam Genetics – are Tweede Kamer-branded Lot Sixty One coffee packages.
Nowadays, Tweede Kamer and its sister company, Coffeeshopamsterdam, dispatch their employees for barista courses at Lot Sixty One, which Bakker, company's social media manager, and budtender, points out is a wise move since Tweede Kamer as a training space is "too small probably". However, elbow-to-elbow seating doesn't push away their diverse and loyal customers. It's no wonder then that American tourist's dying wish is to have their ashes preserved at their favorite coffee shop – don't worry, the urn is on a shelf which is well above the beans and the strains.
Coffee Company Oosterdok
There is a kind of renaissance in Amsterdam's coffee scene, one that goes well beyond the city's many coffee houses. Reflecting this radical change of coffee landscape, Coffee Company has opened a new Oosterdok location with a decidedly Third Wave spin. And voila, Amsterdam got another beautiful café.
As Coffee Company's Stijn Braas tells, Amsterdam is an intriguing place in terms of being between the traditional darker roast French and Italian coffee tradition and the contemporary lighter roast of the Nordic nations. The city is quite different when compared to nearby places like Scandinavian cities and London, and was relatively late arrival in the coffee scene. Only a few years the first new-style coffee shops opened.