Thailand is a unique and truly beautiful country that offers everything from busy, modern cities to ancient ruins and Buddhist temples, gorgeous natural landscapes and villages, and fantastic beaches. With so many different activities and places to enjoy, it's no wonder that Thailand is one of Southeast Asia's best travel destinations. To plan an unforgettable trip, check out the five places to visit in Thailand below.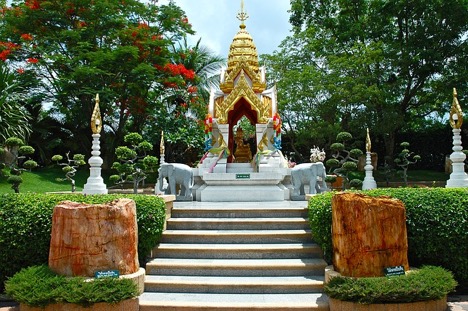 Pattaya Beach
Pattaya Beach is a hugely popular beach in Thailand, featuring 2.5 miles of gorgeous sand and loads of exciting water sports, from paragliding and wind surfing, to jet skis, and more. Although this beach is typically very busy and not the secluded hideout you might be searching for, it's a great spot for renting a lounge chair and enjoying a Thai massage.
Bangkok
Bangkok is Thailand's capital, as well as the biggest city in the entire country. It features amazing palaces, breathtaking high-rise buildings, fun nightclubs, busy markets, streets that are lined with vendors selling food and souvenirs, and ancient temples. Despite being a bustling center filled with traffic and quite a bit of noise, you can also find some green spaces. And you definitely don't want to miss out on seeing the Wat Phra Kaew temple, where you'll find the Emerald Buddha.
Phuket
The most famous beach, and the most developed and largest island of all of the country's islands, is Phuket. This incredible island is easy to get to because it's connected to the country's mainland with two bridges, and it's known for its impressive and exciting nightlife, where you'll find plenty of alcohol, cabaret shows, and bars. By day, you can enjoy some of Thailand's best beaches in Phang Nga Bay for some fun in the sun. You can easily search for a long term rental Phuket if you decide to extend your stay.
Chiang Mai
Chiang Mai is yet another city in Thailand that's a very popular tourist destination. Once there, you'll notice that it's surrounded by the majestic mountains of the northern part of the country, and you'll also likely encounter plenty of backpackers who are ready to explore the hill tribes and the lush landscape. Outdoor adventurers will feel right at home, but you will also find modern architecture, as well as historical elements, throughout the city, including many beautiful Buddhist temples, the most famous of which is Wat Phrathat Doi Suthep.
Kanchanaburi
Kanchanaburi is found in the western part of Thailand, and it is an area that is revered for its natural beauty. You will be able to easily access breathtaking waterfalls and natural parks from here, such as the Srinakarind and Erawan national parks. If you are an outdoor enthusiast, this is definitely a spot that you should add to your itinerary.
As you plan your next trip to Thailand, keep the above five places in mind. With so many amazing places to see throughout the country, it may be difficult to squeeze everything in, but it will be worth every second.