Ah, the amazing Alps. From their snow-capped splendour we have squeezed the only suitable adjective to describe mountains of their calibre: alpine. In fact, downhill skiing is often referred to as "alpine skiing", as much of the earliest downhill skiing was done in the European Alps.
The Alps range cuts across Central Europe, making a wide berth through south-eastern France near its borders with Austria and Italy. Skiing has been a popular pastime in the French Alps for decades and there are literally hundreds of fantastic ski resorts littered all over the region for skiers to choose from.
So, why take a ski trip in the French Alps?
Great selection.
Within the French Alps are some of the best selection of resorts, chalets, hotels and ski areas in all of Europe. No matter what level of skier you are, you will have your choice from among the best slopes on the Continent.
Advanced skiers will love very challenging slopes at French ski resorts like Les Grands Montets in Chamonix Valley, which boasts the most vertical mountain in France and an incredibly long season of glacial skiing each year. Conversely, if you are a beginner skier or just prefer a less challenging ski environment, you will enjoy the gentles slopes at resorts like Isola 2000.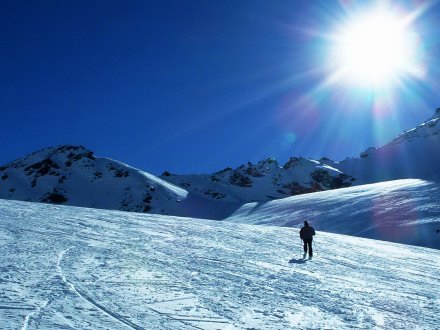 Excellent snow.
The French Alps offer some of the highest skiing in Europe. The aforementioned resort, Chamonix, has one of the longest seasons because it is situated on a glacier. Likewise, Mont Blanc is France's highest ski town at 3,840 metres. The height and vertical space of these mountains create great conditions for good, skiable snow and the least icy conditions.
Laid back atmosphere.
In contrast to most of their European neighbours, the French are not uptight skiers. They prefer a laid back skiing environment with a relaxed atmosphere, and this is what pervades most of the Southern French Alpine ski resorts. Plus, the general demeanour of French culture is concentrated on enjoying life, which means there is less of a premium on advanced or very technical skiing and more of a focus on simple enjoyment of the sport.
Beautiful accommodations.
The hotels, chalets and apartments on offer in the French Alps are, undoubtedly, among the most beautiful ski accommodations in the world. Here, you can take your choice from an upscale traditional hotel room, an idyllic mountain chalet or a fully featured alpine apartment that will allow you to self-cater.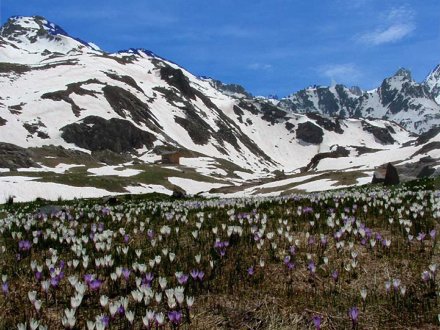 Apres ski.
This French phrase can be literally translated as "after ski" and refers to the tradition of enjoying a few cocktails or beers in a relaxing, lively atmosphere after a long day on the slopes. The French are famous for this post-skiing drinking session and insist that it relaxes the muscles and solidifies the skier's true enjoyment of the mountain environment and the sport of skiing.
Whatever you believe about apres ski, it is definitely a wonderful tradition in which to partake during your French ski holidays and, perhaps for some, the most compelling reason to ski in France!
Guest post written by Erna Low's Ben Davies whose favourite ski region is in the Southern Alps.