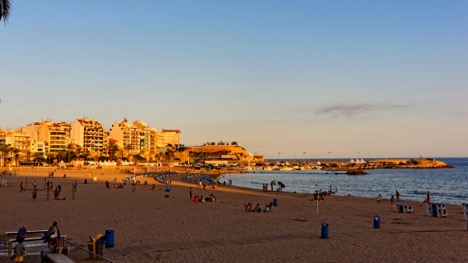 Benidorm goes by the name of the most fun and versatile resort in Spain that money can buy and people can visit! Host to two amazing long white sand beaches right by its shores, Benidorm is a definite favourite for holidays all year round. Whether you visit with family or friends, for partying or relaxing, follow our guide and you will get a taste of the reasons why you should visit if you haven't already!
Sun sun sun
Oh but of course no holiday in Benidorm goes without sunshine! The warm and friendly Mediterranean weather along with the almost constant sunshine from spring till autumn is certainly inviting and a perfect way to work on your tan naturally!
Family fun
If you decide to bring your family along during your holidays in Benidorm you certainly won't be disappointed as there's lots of fun under the sun for the everyone! Visit the local waterparks and watch the animal creature shows at Mundomar while keeping your children and partner happy. The beaches are friendly and well equipped and they offer lots of potential for family fun!
Nightlife
From avid club-goers to regular tourists who want to enjoy a night out and get a taste of the local nightlife, Benidorm caters for everyone! There's a wide variety of bars and clubs to choose from throughout the town and its lively nature keeps them open and vibrant all year round. Pick your spot and party sun up till sun down or chillax with a refreshing daiquiri on hand and enjoy the local vibe, after all it's up to you!
Watersports
Fancy scuba diving or kayaking? Is jet-skiing your thing or maybe you prefer parasailing? The beaches of Benidorm have a vast variety of watersports on offer to satisfy even the most demanding fans! Make the most out of your holidays in Benidorm and try something new that will get your adrenaline rushing and your heart pumping full of excitement!
Food
We all know that nothing can top a traditional and well-made Mediterranean dish. For those of us lucky enough to try tapas and other Spanish delicacies in their natural habitat however, standards tend to change. Take some time off your resort during your holidays in Benidorm and explore the local tapas bars and restaurants for some tastes to remember! We are certain that your local Spanish style restaurant will never taste the same after this flavourful experience!