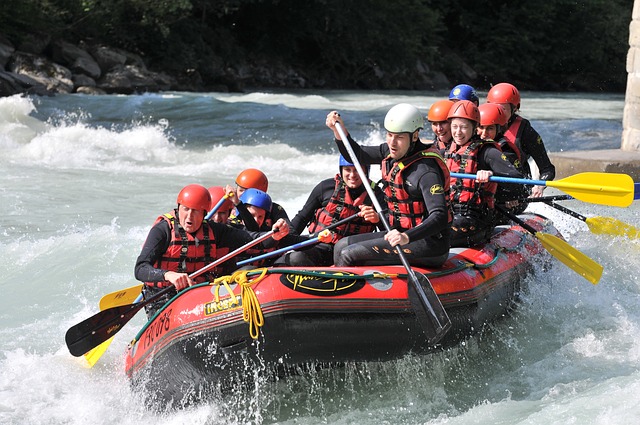 Water sports are some of the most exhilarating and challenging things to try out in life purely for their unique nature. It's no wonder that people get hooked on water sports and choose to spend their summers taking part in a whole range of them just for the fun of it all. However, there are a lot of water sports out there to take part in, so it can be quite difficult to navigate your way around which one you should try (and even, in some cases, where exactly you can try it). So, without further ado, here is our guide to 6 water sports you need to try to help you get started.
1. Flyboarding
Flyboarding is one of the most entertaining water sports you can do. It's not cheap, but it's so worth every penny to have a go at one of the craziest things you'll ever see. Plus, you look so cool up in the sky with water spraying from below your feet keeping you high in the air.
If you want the perfect location, it's in Dubai. The Palm offers flyboarding training sessions for those who are willing to pay the price. For a special occasion, this is a great idea. Or even if you're just holidaying.
2. White water rafting
Number two on our list of 6 water sports you need to try is, of course, white water rafting. This is one of the most adrenaline-filled water sports you can participate in, and when done right, you'll absolutely love it.
Costa Rica's Pacuare River is a particularly brilliant place to white water raft with some of the most famous rapids in the world. There are also some great places in the US, like the Salmon River and Colorado River, to take part in this awesome sport too.
3. Parasailing
Those who adore heights and sights will fall in love with parasailing – a classic water sport that is widely available all around the world. Getting hoisted up in the air and pulled by a speedboat is a great way to spend a morning or afternoon, and it's something that you'll cherish forever.
Any beach is brilliant for parasailing, so you can participate in this one even on your annual package holiday. However, some of the most beautiful locations in the world for this water sport are Rio de Janeiro, Phuket and Goa. Check them out!
4. Kayaking
While it is on the tame side of the water sports on our list, kayaking is yet another brilliant activity to try out on your travels. Our recommendation is to hop in your kayak in the early morning or in the evening when everything is still and quiet and the sun has just risen or is just setting. We'd recommend that you use a dry bag to keep everything safe in your possession too – the last thing you want is a wet phone!
The best places to kayak are mostly in Canada, though there are some fantastic spots in Florida for it, as well as Thailand too. It is one of the most calming and utterly breath-taking water sports that you can do, and it's worth it, especially if you do it with a loved one.
5. Water skiing
Going back to the adrenaline-filled water sports, water skiing is another excellent one to try. Like parasailing, most hotel resorts and beaches will offer the opportunity to water ski, and you should take it. Sure, learning how to balance is difficult, but once you've smacked the water a few times, it all gets a little bit easier.
If we had to pick anywhere in the world to water ski, we'd probably pick the Bahamas. There's something about the white sand and turquoise sea that makes water skiing there something else entirely.
6. Canyoning
While canyoning may not always be viewed as a water sport, it is to some. And to us, it's one of the best water sports out there. Canyoning involves going deep into some of nature's wonders and swimming around in there. The colours and the experience you get while canyoning are just brilliant.
The world has some fantastic canyons, but the best are most definitely in the Blue Mountains, Australia, Kawasan Falls, Philippines and the Jalbire Canyon, Nepal. Europe also offers some wonderful canyons too, so it's worth checking them out if you're heading there soon.
Happy water sporting!