Marmaris is a charming seaside city along the Turkish coastline that is filled with things to do and see. Famed for its nightlife, many tourists come here to party the night away before heading off on tours or cruises the next day. Enjoy meeting new people and exploring Turkish culture, and if you have trouble finding something to do, here are my recommendations for the best that Marmaris has to offer.
SET SAIL ON A BLUE CRUISE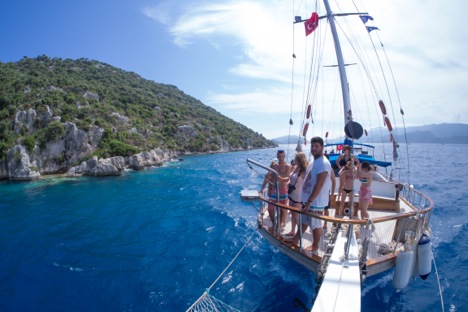 Marmaris is the perfect place for jumping on a Mediterranean blue cruise. The Marmaris to Fethiye Blue Cruise route is just divine and is the best way to take in all of the best tourist activities while still having loads of time for fun in the sun at some of the most beautiful beaches the Turkish coastline has to offer. After a night partying it up in Marmaris, head over to Dalyan and detox in the famous mud baths. Explore lots of history such as the old tombs of Kaunos, and enjoy plenty of water sports in Ekincik Bay. You get plenty of exclusive opportunities to visit less known coves and bays that wouldn't otherwise be accessible. And, last but not least, the food on board is amazing with full Turkish breakfasts, delicious BBQs, and much more.
HAVE DINNER ON THE MARINA
Marmaris was not originally on my hit list for touring Turkey, but I have to say now what a shame it would have been if I hadn't discovered this gem. Just strolling around the town is a treat in and of itself. Netsel Marina is lined with lovely restaurants that overlook the water – I recommend La Fortune Restaurant for its gorgeous views of the entire town and the most delicious doner kebab on earth. Go around sunset and enjoy the magical color displays on the marina waters.
SHOP UNTIL YOU DROP AT GRAND BAZAAR
In between fun in the sun, check out Marmaris' Grand Bazaar for all your souvenir shopping needs. The bazaar is located in the center of Marmaris and the building stretches across several streets. You can find a wide variety of items here including carpets, handbags, mosaic lanterns, leather goods and shoes, traditional Turkish clothing, metal and glassware, spices and Turkish delights! Thousands flock to the bazaar every day so be prepared for crowds of people and haggling for prices!
JEEP SAFARI
Besides a Marmaris Blue Cruise, a jeep safari is probably the next best thing as far as fun tours. The tours start early in the morning and get out into the forest and nearby villages. Get out in the dust and dirt and enjoy a day driving through the mountains taking in the beautiful Turkish countryside, cascading waterfalls and have lunch in a local village.
SCRUB IT OFF AND SWEAT IT OUT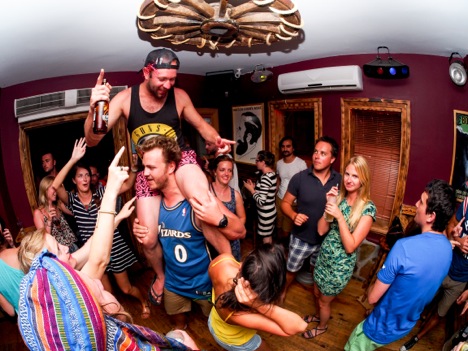 After all that activity out in the dirt, a little R&R and clean-up time is probably needed before taking on Marmaris' famed nightlife, so head over to Suleymaniye Hamam, the oldest and most renowned Turkish baths in the country, and enjoy a body peel, oil massage or some other luxurious service. Seriously rejuvinating.
PARTY IT UP IN DOWNTOWN MARMARIS
Marmaris is known for its incredible nightlife, so get ready to party!. Honestly, it is hard to recommend any one place here. It's best just to take a walk down bar street and see what suits your fancy. Start out with performances by classic belly dancers, live Turkish music performances and then head on to the clubs to dance until the sun comes up.
HIKE UP TO MARMARIS CASTLE
It is said that the Marmaris Castle was built initially by the Ionians (circa 1000 BC) and then underwent repair in the time of Alexander the Great. It was expanded by Suleyman the Magnificent for use by his army of 200,000 men campaigning for the Greek Island of Rhodes in 1522. This is a great spot to take in panoramic views of the Marmaris area, and is recommended for day and night viewing.