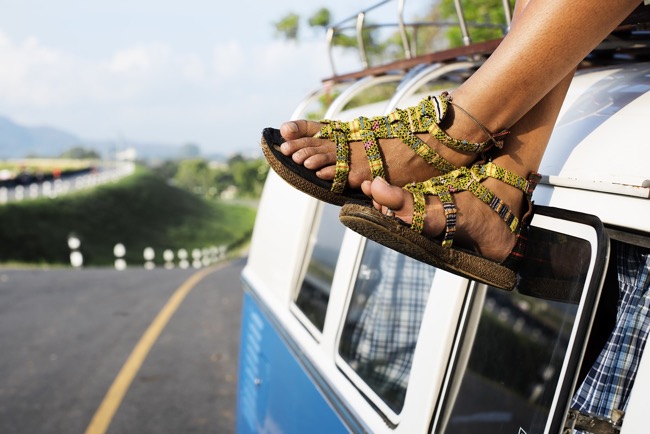 If you're looking for the perfect way to discover Australia, nothing beats hitting the road. This enormous country offers thousands of kilometres to explore, from an unforgettable buck party destination to a wonderful road trip throughout the country. If you're wondering how to road trip Australia, be sure to check out our Australia road trip guide for advice on how to make sure that your holiday goes off without a hitch.
1. Budget your trip
As you can imagine, costs can soon soar if you're not careful. Petrol will be one of your biggest expenses, given the hundreds of kilometres you'll be eating up – but you don't have to pay over the odds for it. It's worth getting yourself a loyalty card from one of Australia's two big supermarket chains, Woolworth or Coles, at the start of your trip. If you then stick to petrol stations affiliated to the brand, you'll enjoy a discount whenever you fill up your tank.
To save money on food, it's also best to stick to the supermarkets. Stock up in big cities – branches in smaller towns can have much higher prices. You're better off doing as much of your own cooking as possible, rather than dining out on a daily basis. Save the restaurants for special occasions.
2. Watch out for the weather
While many of us imagine Australia as having bright sunshine all year round, this isn't actually the case. More than any other kind of holiday, road trips can be absolutely destroyed by bad weather. Keep an eye on the seasons to ensure that your road trip around Australia doesn't turn into a damp squib.
Winter can be very cold, particularly in Canberra, Perth, Sydney and Melbourne, so avoid travelling in these areas between May and August.
The wet season in Darwin and Queensland can lead to an absolute wash out – expect flooding (checkout this website to see the latest road conditions to help you avoid unexpected problems on the road), campsites and national parks closed, and utterly miserable weather. For this reason, avoid these parts of the country between January and March. Spring – September to November – is the best time to experience these areas.
3. Get the right gear
The equipment that you take with you will, of course, depend on the length of your road trip and your planned accommodation. If you want to save money by staying in campsites, you'll need a gas cooker, ropes, a tarpaulin and cooking utensils as well as your tent and sleeping gear. Of course, if you choose a campervan instead of a car, you'll find it quite a bit easier.
Regardless of your plans, it's always a good idea to bring some tools for maintaining your vehicle, including a jack and a bottle of oil. It's better to be safe than sorry! The same applies to you, too: travelling without a first aid kit is just asking for trouble. Look for anti venom as well as your standard painkillers, plasters, bandages and disinfectant – Australia is rife with poisonous insects, and a bite while you're driving through the middle of nowhere can absolutely ruin your trip.
4. Remember road safety
You may find yourself alone on long, empty roads, but never forget: Australia is one of the countries that drive on the left!
Don't drive in the dark! One of the biggest attractions for Australian road trippers is the free-roaming wildlife. But as night falls, they grow bolder and more likely to attempt a road crossing. For their safety and yours, avoid driving at night.
5. Don't underestimate distances
Australia is far, far larger than most people realise, and it's hard to appreciate just how big it is until you're actually on the road. Pay more attention to what locals tell you than to maps – two towns that look close together on paper might actually be hundreds of kilometres apart.
With this in mind, be sure to stock up! Plenty of water, plenty of petrol, plenty of snacks. This is a big country, and it might be hours before the next service station…