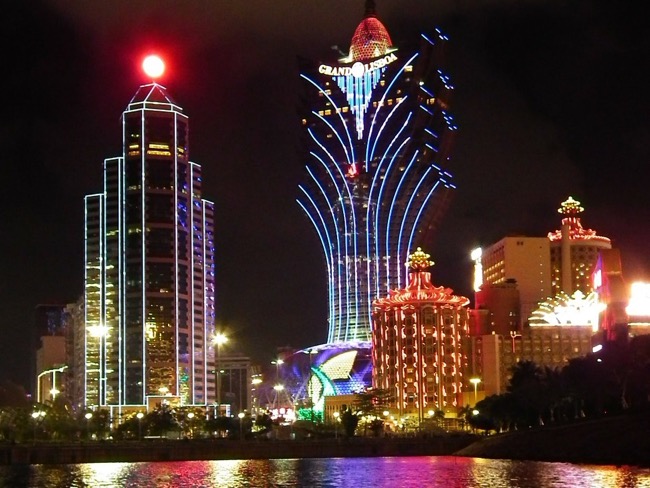 Macau is an autonomous region of China (the Macao Special Administrative Region), about 1 hour ferry ride from Hong Kong. With different laws to the mainland it's the only place in China where casinos are allowed to operate. With this government-mandated advantage, Macau has boomed with the revenues generated from casinos. Towards the end of 2016, the estimated gaming revenue was over $40 billion this cementing its position among the world's casino cities. For Chinese wishing to gamble in casinos they need to plan a trip to Macau. For those who can't travel there are betting sites in China which offer online gaming options.
The gaming giants in Macau include Galaxy Entertainment Group, Wynn Macau, Sands China, Melco Crown Entertainment and SJM Holdings and MGM China Holdings. Macau has an old town area where you can see its Portuguese history. At the beginning of the gaming boom, the casinos were in this part of the city. Now the action has moved to the reclaimed land of the Cotai Strip as the preferred arena. Below is a review of some of the top casinos in Macau.
Grand Lisboa Casino
A Macao original under SJM Holdings is a 20-story tower and the biggest deal in Macau.
Features
* A stunning look from the palace's waxy gold exterior bunch of flowers shaped with night dazzling lights provide.
* Gaming space spread over four floors with more than 290 gaming tables and 880 slot machines. Baccarat is the most played game with a minimum amount of $ 38 up to $5 million.
* Dancers from the Crazy Paris Show spice up the place from as early as 1 pm.
* Over 400 hotel rooms with rooms on the 11th floor provide a spectacular view of the city.
* Delicacies served from renowned eateries such as Robuchon au Dome.
The Parisian Macao
Owned and operated by Sands China Ltd.
Features
* Décor and pictorial views are designed with a subtle touch of the French culture.
* A 130, 000square foot casino carrying over 2000 gaming machines and 350 tables with popular games such as roulette and baccarat. Sic bo game is the most preferred game due to its 50/50 winning chance thus good return on investment.
* Over 3000 guest rooms with nearly a third providing views on the Eiffel Tower.
* Fine French eatery joints with prime street artists doing your pictorial painting.
The Venetian
Considered as the most prominent casino resort in the world.
Features
* Over 37,000 square feet of gaming space with over 1700 slot machines and 600 gaming tables providing games such as roulette and sands.
* Over 3000 suites which are at least 750 square feet fitted with furniture designed with the inspiration of the Venetian gondolas.
* Other amenities include a 15,0000-seater arena, air-conditioned walkways, outdoor and indoor pools, and a golf course on the rooftop.
Wynn Macau
The sassiest place to be in Macau.
Features
* An 8-acre artificial lake on the front offers a spectacular view with the choreographed water lighting every 10 minutes.
* Over 350 gaming tables with around 50 for the VIP Punters can enjoy an array of video slots and poker played on over 1,000 gaming machines.
* More than 1,700 luxurious rooms which are big and brightly lit.
* Host's Macau's largest spa with over 48,000 square feet of treatment and relaxation rooms.
MGM Macau
The only Macau resort that lets in natural lights due to its stunning glass ceiling housed over Grande Praca, a Portuguese inspired creation.
Features
* A 284, 350 square foot casino offering over 1200 gaming machines hosted on 400 poker and table games housed. Blackjack, Caribbean stud and sic bo are the most loved.
* The hotel's 585 guest rooms with 18 designed as luxurious villas fitted with big marble bathrooms. Over 90 of the suites facing the sea.
* The spa has 8, massive rooms comprising hair parlor, manicure, and pedicure areas.