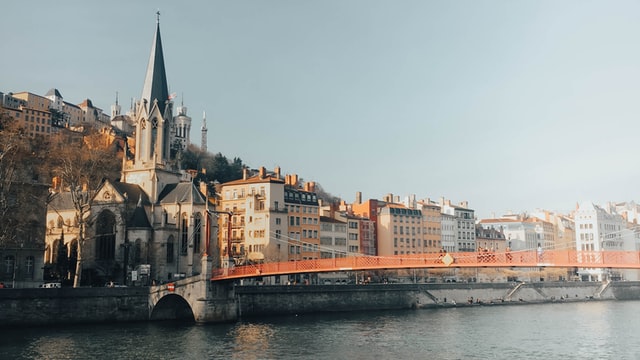 Whenever you think of France for sightseeing, the first choice you think of is Paris. Undoubtedly, Paris is a magical and enchanting place, but that does not mean that other French cities should be ignored. Lyon is an extraordinary place that has a lot of things to offer. In fact, it's the second most important city in France. It is a very captivating city with many things to do and see during a visit, even if it should be brief. When planning a trip to France (including checking the entry France requiriements), consider Lyon in your plans.
There are diverse places to be found in Lyon, from a Roman amphitheater, medieval and Renaissance architecture in Vieux Lyon, to the redeveloped and modern Confluence district on the Presqu'île peninsula. So here's a list of some of the things to do and see in Lyon.
Explore Vieux-Lyon
This is one of the best-preserved historical centers in all of Europe, a medieval old town of Lyon, called Vieux-Lyon. It is located on the west bank of the Saône River, a charming combination of cobblestone alleys, wine bars, boutique stores, and restaurants, is now a Renaissance, Gothic and Romanesque mix.
Vieux Lyon is the ideal place to learn about Lyon's history. With grandiose buildings and churches dating back thousands of years, Lyon's past shines on this side of the city, it is recommended to walk to the cathedral of Lyon to enjoy an unbeatable view of the city.
You will find many world-famous churches such as Saint-Nizier, Saint-Jean, and the best known of all the Basilica of Notre Dame.
Notre Dame De Fourviere Basilica
Next to the Roman theater, this is the most striking of the interesting places to be found in Lyon. It is located on the Vieux-Lyon. It is the symbol of Lyon as well as being an impressive site. It is located on top of a hill, so it also provides a spectacular panoramic view of the city.
If you go for the first time, in addition to the impressive church that you can see, you will find some doors on the right that take you to a staircase to descend to a second church, that is, this basilica is a church on top of another. The upper church is dominated by 3 domes and is illuminated by 6 stained glass windows that expose a light that accentuates a divine decoration.
Museum Of Fine Arts
A museum founded back in 1801, it is located in the center of the city also known as the Palace of St. Peter, being one of the most important museums in Europe, if you are a great admirer of art, in this place you can find great samples of the great cultural heritage of Lyon.
It is considered the second-best museum in France, behind the Luvre Museum. The art you can find here ranges from ancient Egypt to modern art, with works from Matisse, Monet, Rodin, and Rembrandt, among many others. It houses collections of sculptures, paintings, ceramics, coins, and many more, covering more than 5 thousand years of art history. It consists of 70 rooms that are distributed on three floors, where you will see many wonderful and unique masterpieces.
Visitors have the opportunity to dine outdoors on the terrace of the lovely gardens surrounding the museum, which is open all year round.
Museum Of Gallo-Roman Civilization
It is located on the slopes of the Fourvière hill. This is an extraordinary archaeological museum that houses a great collection of objects that reflect the history of Lyon from prehistoric times to the seventh century, a great Roman monument in Lyon.
On this site, you can find various objects such as tombstones, statues, mosaics, vases, ceramics, among many others. They are antiquities found in excavations in situ and also from the nearby Roman archaeological sites of Saint Romain in Gal.
Among the most outstanding works is the impressive monumental sculpture of Hercules, as well as large and beautiful decorative marble works from ancient baths. You can also observe the Claudian Tablet, which is a work of art that spreads a speech of the Roman emperor Claudius. There is the Sarcophagus of the triumph of Bacchus, among many more. To generate more excitement and curiosity, this site extends to the nearby archaeological site, which boasts the oldest and most sensational ruins in all of France, including two Roman theaters.