We pick some of our top trails and vistas in this spectacular island country
What's the same size as Great Britain, with more sheep, fewer people and a climate that tends to keep its temperateness all year round?
That would be New Zealand, the Antipodean country whose popularity with tourists has enjoyed burgeoning success in recent years, thanks in no small part to the filming of The Lord of The Rings trilogy there, and the recent Rugby World Cup.
With plenty of cheap flights New Zealand bound and back there are certainly fewer financial impediments to travel than, say, 10 to 20 years ago. What is more, as a relatively small landmass – which has the greatest landscape variation in any one country – you can travel easily and take in a lot. (This can make it a more favourable prospect than big neighbour Australia.)
So where to go? How to do it? What to prioritise? One of the most popular ways of travelling both North and South Islands is by campervan. It's an excellent idea for backpackers, couples and families alike, as it's relatively cheap and will allow you to pack in as much as possible.
We'd recommend driving between some of NZ's stunning national parks, then leaving the van and heading off on the country's excellent trails and walks.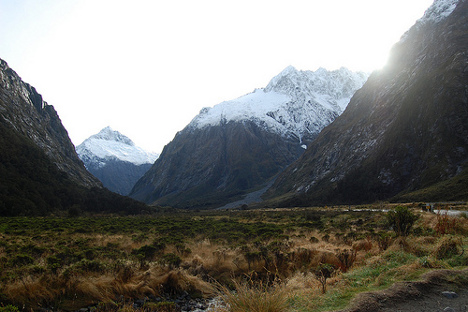 Monkey Creek in Fiordland National Park by edwin.11 on flickr
A must see is Milford Sound – the stunning glacier in Fiordland National Park on New Zealand's South Island. Tucked on the lower south-western edge, it's an incredible festival of natural wonders, with huge lakes, waterfalls, iconic peaks and stunning vegetation. We'd suggest dropping in on Queenstown along the way (it's about a 5-hour drive to the park from there).
Back in Queenstown, head up to Lake Wakatipu for embarrassingly beautiful sunsets and imposing mountains overlooking the expanse of water. There are lakeside jaunts for those looking for a more relaxed walk, or mountainous treks for those looking to test themselves.
For North Island adventures, a lakeside retreat in Rotorua is a lovely contrast to the bracing airs of Milford Sound. With flat landscapes and delicately dappled lakes across the land, you can enjoy a more peaceful trail in one of the area's lovely wooden lodges.