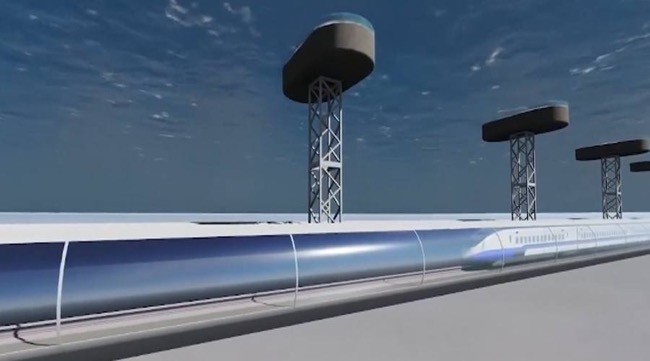 Dubai has constantly used technology to provide the world with an array of record-breaking attractions. Whether it is architectural marvels, luxurious shopping malls, man-made archipelagoes, or state-of-the-art theme parks, this fabulous Emirate never ceases to surprise us with innovative and unique inventions. To add another feather to its cap, it is all set to construct a futuristic Mumbai to Dubai underwater train.
About the Mumbai to Dubai underwater train
The idea was proposed by UAE based company National Advisor Bureau Limited at the UAE -India Conclave that took place in Abu Dhabi. An underwater network will connect the two countries and will not only be used for transporting passengers but also for commercial purposes. There are plans to export oil from Fujairah in exchange for freshwater from the Narmada river near Mumbai. This project is believed to increase the bilateral trade between India and the UAE.
The main goal of this concept was to improve the travel between India and the UAE. Dubai has emerged as one of the topmost destinations for travelers in recent years. There has been an influx of tourists from the Indian subcontinent. However, there are many people who find Dubai to be an expensive holiday destination and not suitable for budget travelers. More often than not, people end up paying expensive fares for visas, flights, and accommodation. This high-speed underwater train will reduce travel time and cost so that people don't end up paying high airfares.
This exciting and high-speed journey will commence from Mumbai and is contemplated to end in the city of Fujairah, which is located an hour away from Dubai. It is believed that the tickets are going to be very reasonably priced so that even middle-class citizens can afford it. The passengers will also enjoy amazing and scenic underwater travel.
The underwater rail concept
The concept of underwater engineering is based on a famous technology that is also used for the construction of floating bridges and other offshore structures. While still in the conceptual stage, the floating underwater tunnel is expected to consist of two curved concrete tubes that will be submerged under the surface of the Arabian Sea. These submerged tubes will be stabilized with the use of pontoons that will allow easy access for the ships to pass. The tunnel will be watertight to resist salty seawater and also strong enough to endure hydrostatic forces. The vacuum created inside the tunnel will result in enormous speed for trains due to lesser air resistance.
The execution of the underwater train project between Mumbai and Dubai is a mammoth task. It requires an unbelievable amount of capital – both financial and intellectual. The plan is to create a futuristic undersea rail network using the magnet repulsion system or 'Maglev'. The automatic bullet trains based on this concept are operational in very few countries such as Japan and China. The idea is to develop a rail network that will make traveling between India and the UAE extremely smooth.
Benefits
The high-speed underwater rail network will provide the following benefits to India and the UAE.
– Goods can be transported between both countries without any hassle
– With the help of a pipeline, oil and gas can be transported easily from Fujairah port to India
– Excess water from the overflowing Narmada river located in the north of Mumbai can be exported to the UAE by using a pipeline
– Passengers including workers and tourists can travel between India and the Gulf Corporation Council (GCC) countries
– A floating fuel station can refuel ships that pass between the floating pontoons
Features
– The ultra-speed underwater train is estimated to cover a total distance spanning approximately 2,000 kilometers
– It is expected that the journey will be completed in record-breaking two-hour time
– The transport of goods and commodities is believed to be more expensive than transporting the passenger so that it is affordable for everyone
– It will be an immense challenge to ensure that the journey of cruises is not affected by this
– The innovative design of this ultra-modern development has received world-wide appreciation
Conclusion
Once implemented, this underwater project will boost the economy and trade relations between both nations. It will also see a steep rise in the tourism sector as more and more people will plan a holiday to Dubai since the travel will be more economical compared to flights. Also, the underwater train will be a unique attraction that will attract throngs of visitors from not only the neighboring countries of UAE and India but also the world over. We are sure after reading this you are tempted to apply for your Dubai visa. We can't wait for the day when this ambitious project bears fruition and this engineering masterpiece transforms from a dream into reality.