On the doorstep of Europe, Morocco is a world away from your usual holiday experience. The Medieval cities here look like they came out of a novel filled with adventure. And the most famous of those cities is Marrakesh.
Just the very name of Marrakesh evokes an exciting travel destination, yet it now only a low cost airline flight away from many European cities. You can also get a transfer in Morocco in advance, and save yourself the hassle of worrying about a new currency and language barriers when you arrive at the airport. Kiwitaxi does all the hard work and carefully chooses service providers, so whatever you choose you know you will have a reliable taxi service.
The central point of Marrakesh is the Jemaa el-Fnaa, which is perhaps the most famous town square in Africa. Here you will find all sorts of commerce and entertainment, along with a tempting array of food stalls. The square was listed as a UNESCO World Heritage site in 1985.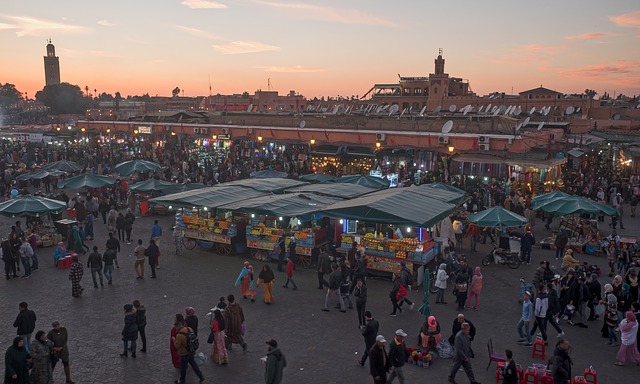 Beyond the Jemaa el-Fnaa, Marrakesh also has the biggest market in Morocco. The souks are a network of shops and stalls that will take you a day to properly explore. And the great thing about the markets here is there are so many handcrafted gifts, wares, and more. The artistry is an extraordinary site, especially if you have become used to seeing the same old stuff in regular markets. The souks are a good place to get a Berber carpets, which are hand-woven by the Berber tribes in North Africa. There are various designs and knotting patterns, so do your homework before you commit to one.
You can visit the Saadian Tombs, which are mausoleums dated back well into the sixteenth century. You will also find the city's grandest of gardens Menara and Agdal with groves of orchids and olives all about. Built by an emperor in the sixteenth century, the Saadian Tombs are a major tourist attraction. The tomb itself holds about sixty corpses of the Saadi Dynasty. Each room is decorative and breathtakingly beautiful, adorned with cedar wood and stucco.
The Koutoubia Minaret is landmark of the city you will soon become familiar with. It's the biggest minaret in town, standing seventy meters tall and dates back to the twelfth century.
You will find many accommodation types from hostels to luxury resorts, but the best way to spend your Moroccan nights is in a Riad. A Riad is a walled home with a garden inside. It's usually a few stories tall with courtyard fountains and flowers, as well as a rooftop terrace. Many of the Riads can be found deep in the labyrinth markets, and once inside you are in a self-contained oasis that is walled off from the rest of the city. They are beautifully filled with Moroccan culture and surrounded by patio gardens all the way around as well as terraces on the roof tops. There are also many Villas in Marrakesh if you would rather have a self catering option and stay by yourself rather than in a host family.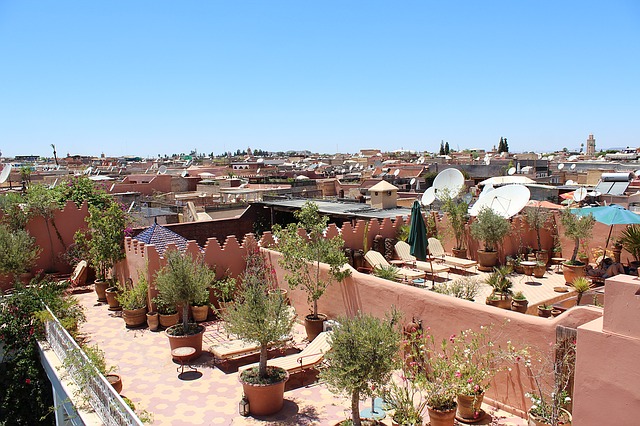 So if youare thinking about your next holiday destination give Marrakesh a thought.