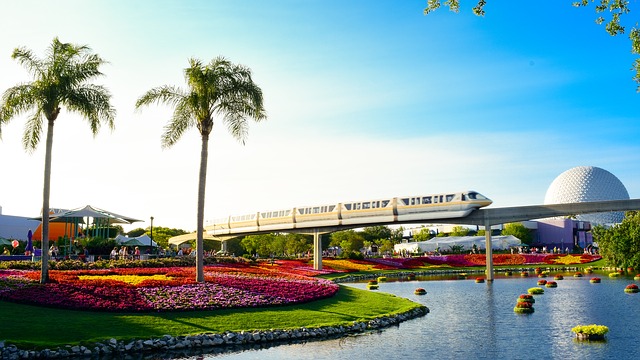 Orlando is chiefly known for its amazing theme parks and waterparks. The sun is out all year round, and there are scores of tourist attractions geared for family holidays, which make it a favourite combination for parents who cant decide where to take the children for the holidays. When planning out your trip, keep in mind that you can get tickets to various parks in bulk on discounted prices. Do plenty of research on which park to take your children to, and purchase the tickets in advance in order to get the best bargain.
You need at least two or three weeks to fully enjoy all that Orlando has to offer so make sure you take out sufficient time when planning the trip.
Accommodations
For a visitor to Orlando, life revolves around the theme parks. As a visitor you should make your your accommodation is near everything you want to see.
If you are looking for the best place to stay in Orlando near Disney, then the Park Royal Orlando Hotel has comfortable rooms and offers everything you need for your stay. They have an outdoor pool, sun terrace, free parking, and free Wi-Fi.
Disney World is a huge complex, and contains a number of resorts within. Animal Kingdom Lodge and Cinderella Castle are two of the themed lodges on site, with fantastic interior décor and architecture. These lodges are particularly popular among families with little children who love a particular theme.
Outside the Disney World Complex, you can find more resorts around Epcot and the boardwalk. Depending on your budget, you can choose value resorts with minimum amenities or moderate resorts. Deluxe resorts are available too, which usually include suites, concierge rooms, free access to spas, evening clubs, children's clubs and dining areas. For larger parties, vacation club resorts are also available which usually accommodate up to 12 guests.
Food
A number of restaurants are spread out in the city, most of which offer buffets with large selections. There are a number of fast food chains as well for catering to children who are a bit picky when it comes to food. Additionally, you can find great food at theme parks and other tourist attractions. You may be able to save quite a lot of money on food since Americans like large food portions; in fact, ordering for one is usually sufficient for three.
Activities
Walt Disney World is naturally the first stop on your very first day in Orlando. The complex constitutes two waterparks as well as four theme parks. The "Magic Kingdom" contains tons of rides, parades and carnivals, and the children may get an opportunity to see Mickey Mouse up close.
The Wizarding World of Harry Potter is a dream come true for every Harry Potter fan. Children get an opportunity to visit Hogwarts, get a behind-the-stage view of Professor Dumbledore's office, and walk through the streets of Hogsmead.
Universal Studios and Universal's Islands of Adventure is another favourite theme park that lets children go behind the scenes of their favourite comics and animation movies like Shrek and The Incredibles.
For hotels in Orlando near Universal Studios, the Park Royal Orlando Hotel is ideally located for access to the most famous amusement parks, including Walt Disney World Resort, Epcot, Sea World, Universal Orlando Resort, and Animal Kingdom.
If you are interested in science, a day trip to the Kennedy Space Centre is certainly a must.
Best Time to Go
As mentioned above, Orlando has a subtropical climate because of which the sun is out virtually all year round. The summers tend to be a tad humid, however, frequent rainfalls make it quite pleasant and refreshing.