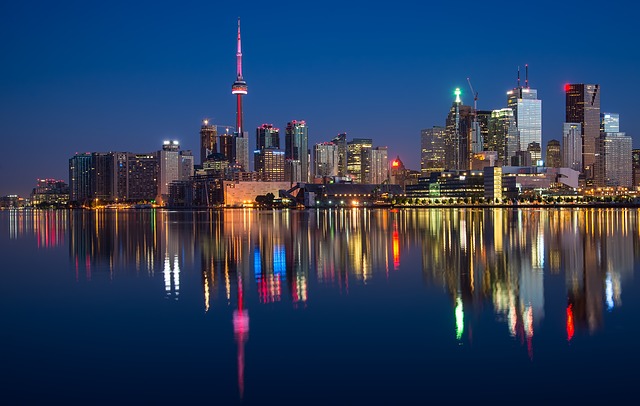 Toronto, the capital city of Ontario and the country's biggest city, is easy to like. It's a home to a vibrant mix of tourist attractions, from museums and galleries to the world-famous CN Tower. When it comes to cultural attractions and public endeavors, Toronto is on par with San Francisco, New York City and Chicago. With exhilarating attractions, live performance, major leagues sports along with a festival for nearly everything, you'll never run out of crucial things to do in Toronto. The city center is relatively easy to navigate, and the people are friendly, and it's the influence of the city's 200-plus ethnicities that all together make Toronto exciting.
Essential Things to do as a visitor in Toronto
1. CN Tower
This is the best place to start. The CN Tower, built between 1972 and 1976 was once the tallest standing structure in the World situated in the western hemisphere, but has long since been surpassed and is an important telecommunication hub. Visitors have the opportunity of simply appreciating the structure from the ground or taking a trip up to one of the observation areas for fabulous views of the city and Lake Ontario. Towering above the downtown, the building can be seen from almost everywhere in the city.
2. Royal Ontario Museum
The Royal Ontario Museum is ideally one of Canada's premier museums with an international reputation for excellence. The museum contains many collections covering a great variety of periods from all over the world. Substantially, this museum houses outstanding collections and also features major exhibitions from around the globe. The expansion of this facility featuring glass and sharp angles positions this museum on top for visitors to enjoy their stay in Toronto.
3. Art Gallery Of Ontario
This is one of the major art museums in North America and one of the top things to do in Toronto, Canada. It occupies a unique looking modern building on the west side of city center. The building is filled with galleries and other office spaces. A whole series of temporary exhibitions are mounted all through the year by this remarkably well-endowed gallery. Moreover, this museum is well suited for the visitors simply because it holds impressive collections of Canadian paintings of contemporary art and it frequently organizes special exhibitions.
Short Term Rentals alternative to hotels
One thing you will notice about Toronto is the modern apartment boom that has transformed it into a vibrant world-class city. The choice of apartments available have made it a great alternative to staying in hotels. Short-term rentals in Toronto from sites like torontoboutiqueapartments.com offer better value for money than staying in hotels, especially when you consider that you can prepare your own meals in a homely environment, saving the expense of eating out every day. And not to sound like a cliche, but you will be living like a local than as a tourist when staying in an apartment, giving you a better feel of life in the city.
So that is an introduction to Toronto. If you haven't been (or if you have visited for several years) you will be in for a surprise with how much this city has to offer.