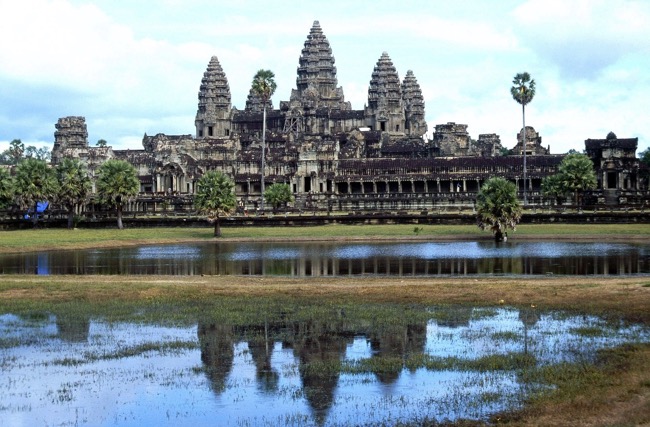 Visit Cambodia
The Kingdom of Cambodia is located in the southern part of the Indochina peninsula in southeast Asia. Many travellers have Cambodia on their bucket list and for good reason. In Cambodia it is possible to find one of the largest religious monuments in the world, Angkor Vat. The world famous temple has attracted visitors for centuries and the experience is truly life changing. If you only have one day to spend in Cambodia, you should spend it at Angkor. Before you visit this magnificent wonder though, it might be necessary for you to secure a visa for Cambodia.
Cambodia eVisa
It is possible to apply for a visa to Cambodia online, a Cambodia eVisa. With a Cambodia eVisa it is possible to stay in the country for a period of up to 30 consecutive days and the online application form is quick to fill out. There is no longer any need for travellers wanting to apply for a visa to Cambodia to visit consulate's or embassy's, everything concerning the visa application process can now be administered online instead. The online visa application process is meant to facilitate travel to Cambodia and it has made it easier for tourists to explore this wonderful destination. Simply apply online for your visa to Cambodia, pay the visa fee and then you will receive your visa directly in your inbox. The Cambodia eVisa is a single-entry visa issued for tourism purposes and all that is required is that you fill out the online application form with your personal information and passport details. Once approved, the visa is then valid for a period of three months. Not all travellers need a visa to enter Cambodia though and for full disclosure on visa rules and regulations it is best to visit official sites online.
Angkor Vat
With only one day at your disposal you will still be able to make the most of your visit to Angkor Vat. The temple was originally constructed as a Hindu temple but it was later gradually transformed into a Buddhist temple instead. Built by the Khmer King Suryavarman II, the city of Angkor measures approximately 162.6 hectares. Angkor Vat is the best-preserved temple at the site and it is a symbol of high classical style of Khmer architecture. Due to its religious status as well as the fact that it remains possible to visit the grounds, it has become a symbol for all of Cambodia. It is the main attraction for travellers to the country and it is even depicted on the national flag. The temple of Angkor Vat is unlike most Angkorian temples, oriented to the west, why, no one has yet been able to determine. The sunrise at Angkor Vat is said to be one of the true wonders of the world and should not be missed once you are here. Let this magical moment start your day at one of the most significant pieces of architecture the world has ever seen. Enjoy the rest of the day by wondering the site and experience this grand place for all it's worth.