As an island nation, Australia boasts some of the world's best surf breaks and beaches, and riding the Australian waves is at the top of every surfer's to-do list. Due to the size and diversity of the Australian continent, there are plenty of surf breaks and beaches to choose from – if you're an experienced surfer, there are a number of beaches that offer more challenging big-wave surfing. If you're just starting out, however, it's also the perfect destination for surfing lessons.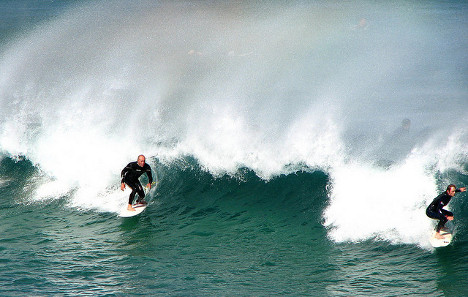 Image Source: Jessica Rabbit
When visiting Australia, you'll never be short of surf destinations and beaches to choose from. But here's a selection of some of Australia's most popular and famous surf spots and destinations.
Bondi Beach, Sydney, NSW. It's an iconic Australian destination that attracts all levels of surfers. Whether you want to take a lesson or get amongst the locals, surfing at Bondi Beach is a quintessential Australian experience. It's one of the city's biggest and most popular beaches, however, so be prepared for the crowds. If you're after a more isolated surfing experience, head to Sydney's Northern Beaches. Manly, Dee Why and Narrabeen beaches have consistently good surf. If you're looking to sample the Sydney surf, there are daily cheap flights to Sydney from a number of destinations around the world.
Margaret River, Western Australia. The water in Western Australia is almost as warm as the air, making for a very pleasant surfing experience. Add consistently good surf and glassy barrels into the mix, and it's no wonder that areas in Western Australia – particular Margaret River – attract surfers from all over the world. There may be an added risk in surfing the Margaret River waters (Great White Sharks call the area home!), but this doesn't deter the keenest surfers searching for that perfect wave.
Bells Beach, Victoria. The Victorian coast, south of Melbourne, is completely exposed to the open ocean and swells from the Antarctic. This means big – and cold – surfing conditions. Bells Beach is this stretch of ocean's most famous. It was the setting for the final scene of the classic surfing movie Point Break, and is home to one of the world's longest running surfing competitions, the Rip Curl Pro Surf & Music Festival. Torquay is another favourite Victorian surf destination. Just remember your wetsuit!
Byron Bay, NSW. Byron Bay and surrounding beaches is as well known for its surf culture as its waves. Visitors will have as much fun enjoying the quirky and alternative culture of this beachside town as they will riding its great waves. Wategoes and Tallows Beaches are popular with experienced surfers, while the Pass and Main Beach are the perfect place to learn to surf. There are a number of surf school operators to teach you the tricks of hanging ten.
Australia is one of the world's number one surf destinations, and these are but a few places where surfing enthusiasts can either get into a 'green room' or experience a wipeout! In Australia, the surf's always up.
Author Biography – Cheap Flights
Fancy going to Sydney then? Save yourself some money and book a cheap flight to Sydney. Cheap flights Australia will get you to your preferred Australian destination and enjoying the Aussie waves today!