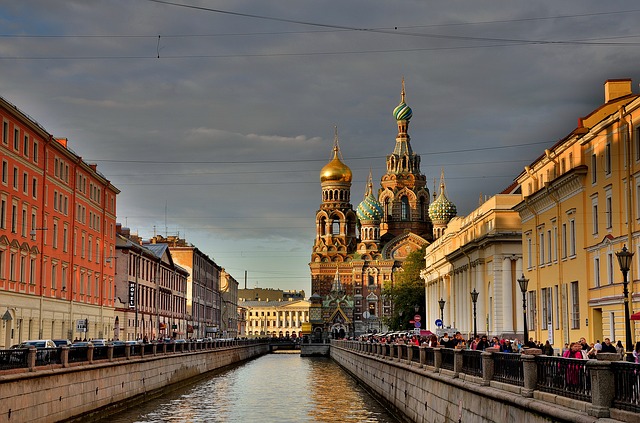 If you have all the other places listed on your bucket list and Russia is missing, you need to add it right now. That's because there are plenty of reasons to do so, some of them being the rich history and culture, spectacular arts and museums, Borscht and Pelmeni and so much more. So take off to this region that is cold to the skin yet warm to the heart and get on the Allegro Train to experience some of the most beautiful places you have ever seen!
Here are 5 places that must find a place in your itinerary when you visit Russia:
St. Petersburg
From the most elaborate architecture to spectacular sculptures and cathedrals, St. Petersburg will keep you wanting to explore more. While you do stroll on the streets of St. Petersburg, you will be taken by surprise to know that these stunning constructions that you see were established hundreds of years ago. They were then preserved and transformed into museums. Your visit to Russia will incomplete without a visit here.
Vyborg
Vyborg is where three beautiful regions – Russia, Sweden and Finland – meet. This small town will mesmerise you with its cobblestoned streets and the medieval castle. Lying on the banks of the Gulf of Finland, this town is a favourite among tourists. It is very easy to reach as it is only about 130 kilometres away from St. Petersburg. With numerous antique shops around and cafes that offer delicious doughnuts and dumplings, there is a lot you can explore munching along the way!
Kouvola
Housing one of the UNESCO World Heritage sites, Verla (North Europe's most popular Arboretum) there is a lot one can look forward to when visiting Kouvola. The picturesque Repovesi, one of the most visited National Parks in Southern Finland will be a hit with hikers since it has 45 kilometres of trails with different levels of difficulty. A paradise for adventure lovers, one can look forward to activities like canoeing, cycling, camping, mountain biking, golf, fishing etc.!
Lahti
Lahti is one such region where you get the best of both worlds – colours of the urban city life and comfort in nature's lap. A day trip to the city is perfect since it is a small town that can be explored by just cycling or walking around. You'll find many bars and restaurants to gorge on some scrumptious meals and grab a couple of drinks by the end of the day.
Helsinki
Ruling two thirds of the Baltic sea with 315 islands clustered together, Helsinki is quite a sight to revel in. On every traveller's list, it is popular for its serenity and vivid visuals. It has some great spots from where you can witness the magical Northern Lights and is the safest place to be in the whole world! Add to it the delicious delights of Finnish cuisine and you have a perfect reason to visit Helsinki!
The list of must-visit places in Russia is a never ending one. These places are refreshing with a lot to offer to any tourist who decides to enjoy a blend of city and town life. Clubbed with natural delights, Russia truly offers a great experience to those on the quest of wanderlust.