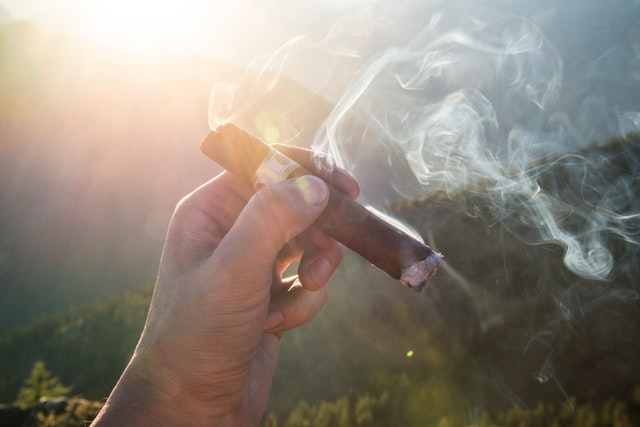 You probably have your favorite cigar supplier all lined up.
But what happens when you have to travel? Yes, you can take along enough stock so you never have to look for cigars during your trip.
But I say why spoil your experience?
You may find new favorites in stores you're not used to shopping in. Or perhaps a local smoker introduces you to one you've never thought of trying.
Still it's smart to prepare yourself. The local market determines which cigars you'll find in stores. And not all countries rate Cuban cigars as the best. Yes, I know this is a shocking thought. But try some of the popular cigars these few countries enjoy.
When in Rome, do as the Romans do, right?
Popular Cigars in the US
The US was the birthplace of the modern cigar industry. Europeans discovered the value of tobacco leaves in the 1400s and then the American pioneers made sure the multitudes could benefit. They started the first factories and today the entire world loves this pastime.
Some nations are still discovering what cigars they love. But the Americans have had centuries to decide. Here are a few items you'll find in most smoking lounges if you visit the country.
Brands
There's a clear winner in the US and surprisingly it's not a Cuban brand. But you can be sure these Dominican cigars are of the same quality of any of your favorite cigars distributed by Habanos.
The victor is Arturo Fuente and it draws over 50% of the cigar business in America.
The company was originally based in Florida, but currently uses leaves from a farm in the Dominican Republic. It has survived a number of disasters such as:
– Not having access to quality Cuban leaves anymore
– Fires in factories
– Moving to Nicaragua because of the need of leaves and cigar rollers
– Dealing with financial losses after Nicaragua's unrest
But the family kept going and eventually settled in the Dominican Republic. So today you'll smoke a cigar with a rich history. That's worth giving it a try during your next US trip.
Because this brand provides cigars for every possible price range—affordable to premium—you'll easily find one you're willing to give a try.
It seems the Americans love South American flavored leaves. Their second choice is Padron Cigars from Nicaragua.
Even though recent trade embargo changes now allow Cuban cigars into the country, these cigars haven't found their way onto the list of most popular brands yet.
Who knows what will happen in future?
Types
But all people don't chase after a specific brand. For some smokers it's more about affordability and flavor.
For these people the perfect answer came in the form of little cigars. While normal cigars are still the most popular, these smaller ones are taking up more of the market share every year.
If you're planning on spending time in the US with friends or colleagues these may be the perfect option for you. They smoke faster than some cigars, so they're ideal for smoke breaks or if you're unsure of the day's schedule.
What the UK Loves
If you haven't indulged in Montecristos yet, wait until your next trip to the UK.
Don't feel bad if you haven't tried these Cubans. The country produces so many exceptional cigars no smoker will taste all of them in a lifetime.
But the Montecristo numbered range is worth putting on your list.
I don't mention simply one of them because each one in the range has its own aroma and strength. But multiple ones usually feature on the UK's most wanted lists:
– The Montecristo No.4 is of medium body. You'll enjoy creamy aromas of cedar and chocolate. It's 129mm long with a 42 ring. People love it because it has simple tastes of high quality. This makes it ideal for both beginners and veteran smokers. If you're ready to try something new this one won't scare you away.
– Try the Montecristo No.2 if you want to taste nuttiness, spices and earth. It's 156mm long with a gauge of 52. It's medium to full bodied so try it if you're up for a challenge.
– The Montecristo No.5 is only 102mm long. It's popular for more fruity aromas such as citrus. Best of all is this is an affordable cigar so it's ideal to add to your list of cigars to try out.
Which one matches your cigar style? Do your homework so you know exactly what to ask for when you get to unfamiliar soil.
Australian Preferences
It seems the Australians love their Cuban cigars too. Most of what you'll find in popular cigar stores will be from this country.
High on their list is Ramon Allones' Special Editions. You can also purchase Bolivar Belicosos Finos if you want to impress your Australian hosts.
If you prefer a non Cuban option Australians will still love to smoke the Nicaraguan Edge Habano Torpedo with you.
Do you have enough options to cover your whole trip? I've found cigar smoking should be about the discovery of new flavors, not settling on one. So take a chance and try something different.
When in Doubt
Luckily there are products the entire world loves. And I don't mean this lightly.
These few products get onto 'Most Popular' lists time and again. Manufacturers occasionally get it right to make something most palates adore.
This means you'll be able to pick this up in most countries. Stores know what their customers want:
– Romeo Y Julieta No.2
– Davidoff branded cigars
Of course you don't have to wait until you get there. Because these cigars became the most popular among certain nations' citizens, their fame grew. Today you're able find these in many cigar stores and of course, online. So your international taste experience can start today.