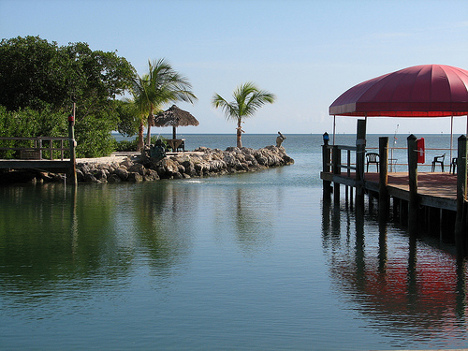 [Image credit: Lana_aka_BADGRL]
From Cape Canaveral to the Keys, Florida – nicknamed the 'Sunshine State' – offers a mind-boggling wealth of fun experiences and adventures just waiting to be discovered and enjoyed.
Florida attracts more than eighty million visitors each year, not least because it is home to the world's most visited tourist attraction, the Walt Disney World Resort; commonly referred to as Disneyworld. Located just to the southwest of Orlando, the scale of Disneyworld is breath taking: within the resort's thirty thousand acres are four theme parks, two water parks, thirty-one hotels, a campground, spas and fitness centres and enough family fun to satisfy the average Disney-loving youngster for a lifetime.
Harry Potter fans might prefer Universal Studios' theme park also in Orlando, where muggles can experience J.K. Rowling's wizardly world for themselves, as well as entering Jurassic Park or rubbing shoulders with Shrek, the Simpsons or the Terminator. In fact, Florida is packed with brilliant theme parks including the legendary Busch Gardens and the brand new Legoland Florida, both located in Tampa.
With more than three hundred days of sunshine every year, it's fortunate that Florida can boast some of the most iconic beaches on the planet. Celebrity-spotting sun worshippers will want to hang around the ultrafashionable bars of Miami Beach; local homeowners include Jennifer Lopez, Matt Damon, Sylvester Stallone, Shakira and Anna Kournikova. Designated areas of Miami Beach allow topless and all-nude bathing for those who dare to bare, but quiet family spots can also be found.
An altogether different experience is to be had at Daytona Beach – the only beach in Florida on which vehicles are allowed. Daytona's smooth and hard-packed sand means that you can literally drive your car along designated stretches of the beach; motorcycle racing has been established here since 1902 and an annual motorbike rally still takes place each October.
To find the perfect family beach take the spectacular Florida State Road A1A, a designated scenic byway which fronts the Atlantic Ocean, and head to Cocoa Beach. Cocoa Beach offers the unique opportunity to witness spacecraft launch from nearby Cape Canaveral. A quiet six-mile stretch of white sands, Cocoa Beach is the east coast's surfing capital but also boasts a full range of beach activities and attractions, as well as budget-friendly bars, restaurants and accommodation.
More great beaches make the Florida Keys, an archipelago of coral islands stretching for around 110 miles southwest from the coast of Miami. The Keys are linked by road bridges which form part of an unforgettable section of US Route 1 dubbed 'the Overseas Highway'. This route includes one of the longest road bridges in the world: the Seven-Mile Bridge which traverses the ocean between Knight's Key and Little Duck Key. The islands of the Keys have been described as 'America's Caribbean' thanks to their tropical climate, laid-back lifestyle and opportunities for reef snorkelling, wreck-diving and deep sea fishing.
Head south from the Keys and you'll reach Florida's Everglades. The Everglades National Park covers about a fifth of the area of the original Everglades ecosystem and its subtropical wilderness provides a home to a number of endangered species including the Florida Panther and the American Crocodile. Vast areas of natural mangrove swampland and sawgrass prairies provide visitors the unique opportunity to experience an all-American wildlife safari, covering the waterways on iconic fan-propelled air boats, by kayak or on land by foot or bicycle. True to the image portrayed by film and television, you're never too far from an alligator in the Everglades National Park as long as you know where to look.
If all of this outdoor activity leaves you desperate for some serious retail therapy or city life, there are few better places than Florida to indulge your passion for shopping, entertainment and fine dining. Take the glittering city of Jacksonville, for example. Featuring thoroughly modern stunning steel-and-glass architecture, Jacksonville is divided by the St John's River which flows through the city's heart. The Jacksonville Landing is an all-in-one shopping, dining and entertainment experience where local retailers ply their wares alongside outlets for the best-known international brands. Shop until you nearly drop, and then unwind on a relaxing sunset cruise along the river before choosing from Jacksonville's many fine restaurants for a memorable waterfront dinner. By contrast, Fort Lauderdale on Florida's west coast is a city steeped in culture, arts and entertainment. Considered the 'Venice of America' thanks to three hundred miles of inland waterways, the best way to explore Fort Lauderdale is by gondola or water taxi. But with an entertainment scene that encompasses everything from comedy and jazz to hard rock and ballet, shopping opportunities including flea markets and state-of-the-art malls, dining experiences and accommodation aplenty, there's much to discover.
In fact, that applies to Florida as a whole. Whatever you're looking for from a trip to the sunshine state, whether it's fine beaches, family theme parks, vibrant cities, inspiration or relaxation, Florida has it all for you to discover.