The Lycian Coast running along the south west of Turkey is better known as the Turquoise Coast. This wiggly stretch of coastline is made up of a series of bays and narrow coves interspersed with dramatic rocky headlands and small peninsulas. The name alludes to the beauty that lies in wait; the sea is indeed turquoise, it's also crystal clear and warm, but not so warm that it no longer act as refreshment.
The region of Dalaman stretches along the coast from Marmaris in the west to Patara in the east. It is one of Turkey's most popular tourist destinations, but don't for a second think it has been overrun and lost its original charm.
You can still escape to a lagoon beach and spend the day with no more than half a dozen others; you can climb the thickly forested mountains that form the constant backdrop for pristine hotels and golden sand beaches and the resorts manage to capture the east-meets-west allure of Turkish culture whilst still managing to cater to foreigners.
There are many different resorts to choose from in just this one area of Turkey, so knowing where to start – especially if you have never been to Turkey – can be a little tough. Here is a quick glimpse at a few of the major accommodation hubs, which should hopefully aid your decision process.
Marmaris
The biggest resort in Dalaman is not surprisingly the liveliest. Thanks to the largest yachting marina basing itself in Marmaris, the town has an upmarket feel and the constant arrival and departure of boats keeps things fresh and fun.
There are two sides to this resort. The coastal and marina developments cater to a mixture of luxury cruisers and families and groups looking for fun. There is a huge range of water sport activities to choose from, with sailing being the most prolific. However, the other side of Marmaris is quite different. The town was established many years ago and the Old Quarter is an appealing mix of traditional bazaars, taveranas and boutiques.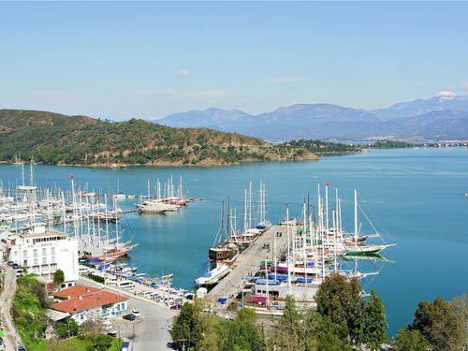 Dalyan
For something completely different head to the village of Dalyan. Tradition lives on and thrives here and the pine-clad hills and cotton fields that surround this small village on the banks or a river offer a sense of relaxation and escapism.
Opposite the village, high in the cliffs, are tombs carved out of the rock by the Caria people around 2,400 years ago. The surrounding landscape is great for exploring by bike or foot or you can opt for something a bit more adrenaline packed and go paragliding, white-water rafting or mountain biking.
The river setting offers something different to the usual coastal beach holiday. You can choose between swimming in the calm river waters or hopping on a river cruise to the coast where you can go scuba diving or snorkelling.