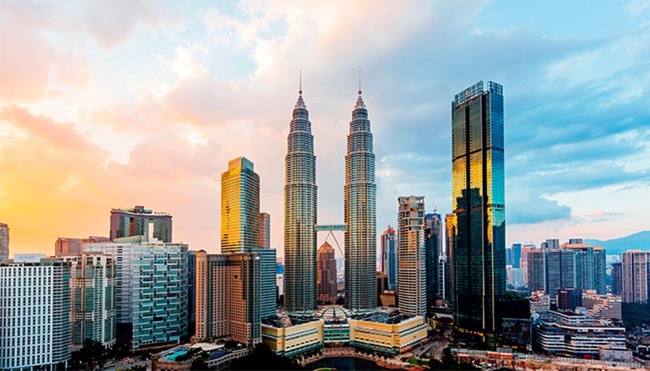 When you plan a holiday, an itinerary or a basic structure to your holiday needs to be set in place. This will help you figure out what you want to and filter out activities accordingly. One important aspect of planning any holiday is figuring out how you will move from one place to another. Should you take the train? Should you find a suitable portal and book bus tickets online? Here all the ways you can explore Malaysia:
#1 Walking
There is a lot you can discover about Malaysia on foot. From food stalls tucked away in corners to street art that paints the walls of every other lane, quaint little shops selling handmade items and so many stories that you will get to hear while interacting with locals. You can plan out your itinerary in such a way that if there are certain activities in the same area, you can go from one place to another walking and soaking in your surroundings.
#2 Trains
There is also a main line stretching from Singapore to Kuala Lumpur and northward to Thailand. This modern national train service is operated by Keretapi Tanah Melayu (KTMB), offering two types of trains – Express Trains and Local Trains. You can also view the schedules and buy the tickets on the KTMB website. Be sure to re-check and confirm schedule times, as they constantly keep changing.
#3 Buses
If you don't want to take the train, buses are a great way to travel within the city and inter-city. There are numerous long-distance bus services operating in Malaysia. One of the most popular portals for booking bus tickets online is redBus, offering various bus brands and a user interface that is easy to understand and use. Most of these buses are typically air conditioned and may even offer a meal service. Frequent buses ply the north/south route between Singapore and Thailand. It's best to buy bus tickets in advance, particularly during peak Malaysia tourism period.
#4 Ferry
Ferries – a unique experience in itself! Ferries serve a number of domestic and international destinations and you can go to Singapore, Thailand and Indonesia. East Malaysia has local ferries, as well as services connecting Brunei and the Philippines. Ferries take you to and from Langkawi, Penang, the Perhentians, Tioman and Pangkor islands off Peninsular Malaysia. It is advisable you buy your tickets in advance from the jetty booth or if some ticket portals offer the service, you can buy the tickets online.
#5 Cabs
Although not commonly used, it is a mode of transportation that can take you from place to place. Malaysia has two types of taxis – local and long-distance. Local taxis are red and white or yellow and blue, and operate in Kuala Lumpur. Long-distance taxis are available from Puduraya bus station. They are expensive and will operate if the taxi is full. Tourists are advised to be cautious while using the taxi service. The taxi fare is always expected to be paid in cash and the taxi drivers are notorious for charging more to tourists rather than going by the meter.
#6 Flights
Most flights to Malaysia arrive in Kuala Lumpur followed by Kota Kinabalu and Penang. Kuala Lumpur has two airports – Kuala Lumpur International Airport (KLIA), the city's main international hub, and Skypark Subang Airport (Sultan Abdul Aziz Shah Airport) that flies domestically and to Singapore, Thailand and Indonesia. The rest of the country has 30+ commercial domestic airports, served by Malaysia Air, AirAsia, Firefly, Malindo Air and MASwings (East Malaysia only).
#7 Tuk-tuks
Travellers from European and Western countries are greatly fascinated by tuk-tuks since this mode of transportation is not found in those parts of the world. Also known as auto-rickshaws, these three-wheeled vehicles are not to be found everywhere in Malaysia but are definitely worth a ride or two if you haven't travelled in these before. But just like the cabs, be mindful of how much the drivers charge you because mostly, they will not take the meter into account.
#8 Bikes
Mostly, motorbikes are rented out by Malaysian guest houses and shops situated. You need to be 21 years or above and with a valid driving licence. Wearing helmets is compulsory. Bikes are fun and can be great for exploring the rural parts and interiors of Malaysia. Riding down empty roads banked by towering trees and lush greenery, can add a nice touch to your trip to Malaysia.
Conclusion
There is no shortage of ways one can explore Malaysia. You can actually plan your entire trip in such a manner that you get to travel in each one of these modes at least one time. One thing you must do is book bus tickets online and other public transportation tickets well in advance. There are various portals available that will offer different features and make the entire process easier and hassle-free.
Malay Translation:
Tidak ada kekurangan cara seseorang dapat menjelajah Malaysia. Anda sebenarnya dapat merancang keseluruhan perjalanan anda sedemikian rupa sehingga anda dapat melakukan perjalanan dalam setiap mod ini sekurang-kurangnya sekali. Satu perkara yang mesti anda lakukan ialah menempah online tiket bas dan tiket pengangkutan awam lain lebih awal. Terdapat pelbagai portal yang tersedia yang akan menawarkan pelbagai ciri dan menjadikan keseluruhan proses lebih mudah dan tanpa gangguan.