If you're planning on visiting Dublin, it's surely likely that you're also planning on visiting a pub or two (or ten). Dublin is practically the home of pub culture. It is the ideal destination for a fun, relaxed break where you and your fellow travellers can really let your hair down and get the drinks flowing. Besides the pubs though, there are beautiful historic sights, plenty of shops and the general vibrance of the city… but let's get back to the pubs.
Of course, you could just mosey from pub to pub and soak up the atmosphere that way, but why not try out a pub crawl? It's structured fun and there are countless different routes you can take. So without further ado, let's explore some of the best, tried and tested Dublin pub crawls – all of which you can book online.
First up: The Dublin City Pub Crawl. At a mere €12, this classic pub crawl is bound to be a smash hit amongst you and your mates. On this pub crawl, you'll be taught how to pour the perfect pint of Guinness, receive a free (yes, free) pint upon your arrival and have some general Irish fun in the shape of learning a bit of Gaelic and getting merry to traditional Irish music. The Dublin City Pub Crawl takes you to four pubs and ends your night with free VIP entry to a late night bar and club – what's not to love?
If singing and dancing is your thing, then The Traditional Irish Musical Pub Crawl may be just the pub crawl route for you. Adults pay €14, whilst students pay €12. As you wander between the three venues, two professional musicians act as your tour guides, telling you old stories of Irish music. This pub crawl is less of a boozy free-for-all and more of an informative yet fun and friendly evening, so bear that in mind. Having said this, those who enjoy a slightly less wild night out yet are keen to soak up the traditional Dublin culture, then this pub crawl is ideal.
For the backpackers out there, here's a pub crawl route specifically designed for you. It's called The Backpacker Pub Crawl and, frankly, it looks great. For €12, you will find yourself in for free Guinness, free shots, discounts on other drinks, and free entry to a nightclub. The guides are enthusiastic about giving their pub crawlers a fantastic, authentic night out – just like how a local Dublin-dweller would do it. You'll team up with other backpackers and engage in drinking games, dancing and plenty of other Dublin-based fun. It's an affordable, wild night out for those of you who are travelling on a budget but still like to party hard.
If none of these official options quite float your boat, then remember that you can always just create your own craic. It's incredibly easy to initiate your very own pub crawl in Dublin because of the very fact that there are pubs and bars everywhere. For easy inspiration, head into the Temple Bar area of the city and, quite simply, just go for it. From the rich 160 year history of The Temple Bar Pub to the five-floor pub/club hybrid that is Bad Bobs, there is truly something for everyone.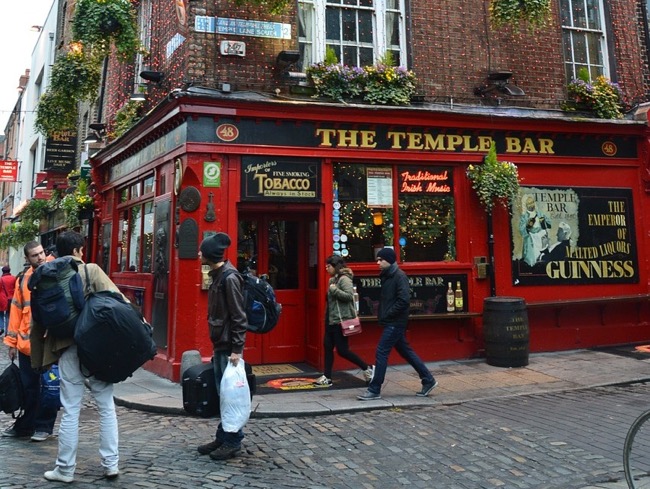 Dublin is a lively place of culture, fun and, most importantly, Guinness on tap pretty much everywhere – it's hard to go wrong with a pub crawl, whether an official one or your own, made up route. Whatever happens, you will have great fun in Dublin.