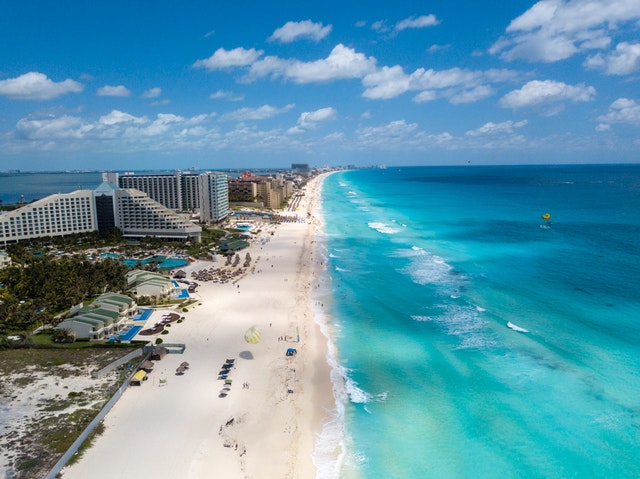 Rich culture, places of historical interest, delectable cuisine, beautiful coastal towns and scenic beach resorts with ample sightseeing destinations, moderate weather all year round, friendly people—all of these have contributed to making Mexico a top tourist destination for travelers from all around the world.
Also, compared to most other internal tourist destinations, a trip to Mexico is relatively inexpensive. The many US and Canadian airlines (the majority of travelers to Mexico are from the US and Canada) offer attractive prices and travel packages for flying to Mexico and excepting the holiday season, these packages are available pretty much all year round. Also, English-speaking tourists love to visit Mexico since although Spanish is the mother tongue of most locales, many (including children) are able to converse in English and this gives the tourists an opportunity to mix with the friendly and easygoing local people and thereby savor the spirit of the place better.
In fact, Mexico, thanks to its rich history and culture, has for long been a popular tourist destination. Colonial cities such as Puebla, Guanajuato or Oaxaca as well as sites of many Mayan and Aztec ruins have always been favorites with the tourists and continue to be so. Even Mexico City, a bustling metropolitan hub, also happens to be steeped in ancient history and culture and you can visit a number of ancient Aztec sites while you are there.
However, for all its historical splendors, Mexico has come to earn a name for itself in the international tourist map of today thanks mainly to its many scenic beach resort towns. So, for example, places like Cozumel, Cancun, Playa del Carmen, Tulum or Cabo San Lucas, although each of them has their own distinctive character, have undergone major makeovers in the last one decade or so. These towns are now dotted with many all-inclusive resorts complete with spa, tennis courts, Jacuzzis and many other modern amenities; high-end shopping and dining facilities; places of entertainment and nightlife attractions and the like.
Is Mexico Safe Enough to Visit?
Regardless of its huge popularity as a tourist destination though, some travelers still seem to be a bit wary about visiting the country courtesy, for the most part, the popular legends of the past, but partly also due to some random incidents of crime and violence. However, these incidents are mostly limited to border towns, usually lying far away from almost all of the popular tourist hubs. Also, since tourism is a major source of income at these places, the local authorities, as well as the local people, do their best to keep their towns safe and peaceful.
Benefits of Booking Your Mexico Holiday with Royal Holiday Vacation Club
As a member of the Royal Holiday Club, one of the industry leaders for many years now, you will be able to avail exciting savings and discounts on many things including your resort stay, sightseeing, watersport activity packages, car rentals, air flights, activities at prominent nightclubs, etc. Royal Holiday vacation packages will also be tailored to fit a tee your tastes, preferences, and budget.
For example, Cancun has become a favorite beach getaway thanks to inexpensive flights from the US, all-inclusive resorts and a happening nightlife. So, if you book a Royal Holiday Cancun Package, you'll be able to enjoy the very bests of Cancun and all that in an extremely convenient fashion. A Royal Vacation Membership will give you access to premier hospitality venues at the place and you can stay at some of the safest resorts of the town that include Park Royal Cancun, Grand Park Royal Cancun Caribe, and Grand PR Cancun Caribe Royal Tower. The resort authorities will also shoulder the responsibility for all your sightseeing and other affairs in and around the town which means you will have nothing to worry about the safety grounds either.