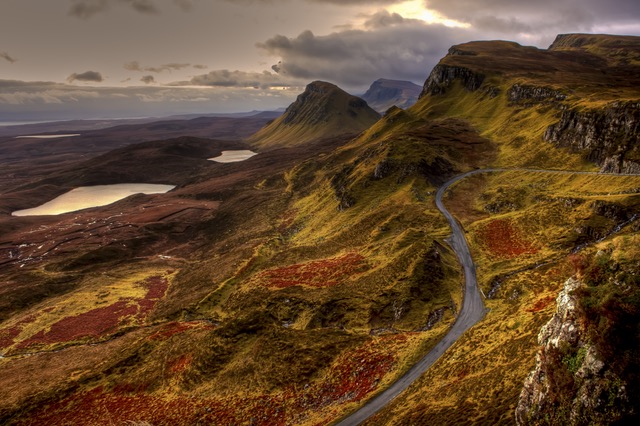 The charisma and aura of Scotland are unmatched. It is a land where numerous famous historical battles were fought, is the home of Scotch whisky, esteemed sport 'golf' and is internationally valued for its Balmoral Castle (a holiday destination for Queen Elizabeth and her folks). Scotland is bestowed with a rich culture, history and picturesque landscape. It is one among the most toured places in the world.
Things to do in Scotland
Golf – For many years golf has been an important sport in Scotland. In fact, golf began in this very European nation. The Highlands areas of Scotland is the abode to the most outstanding golf courses on the planet. There are approximately 600 golf courses in Scotland. These courses are scattered in Southeast, Southwest, Northeast, Historic Heartland and Central regions of Scotland.
Cycling- Bike riding is another treasured activity in Scotland. The fanaticism for cycling is such that lots of visitors hire bikes to travel around this delightfully gorgeous place. Isle of Skye, Glencoe and the Galloway region are some of the beautiful cycling places.
Shopping and nightlife- Aberdeen is known as the Granite City. It offers its visitors a wide scope for nightlife, sightseeing and shopping. One of the trendy spots in Aberdeen is Winter Gardens and the Duthie Park. This recreational area is situated on the River Dee banks, and lots of couples come here for dreamy weekend outings and strolling along the river bank.
City Look
Edinburgh, the capital city of Scotland, is a perfect merge of old and contemporary Scotland. The conventional Scotland is seen from the ancient Edinburgh buildings and castles. While the spectacularly constructed restaurants, hotels and exciting nightlife are the symbols of modern-day Scotland. Edinburgh swarms with tourists every year for varied reasons. The leading sights are the Edinburgh museums. The Royal Museum, the National Gallery of Scotland alongside other national museums are typical cases in point. Also, there is the famed Edinburgh Castle, the Royal Botanical Gardens and Princes Street, globally well-known for shopping. Edinburgh is a superb place for your holiday vacation, and there are some great holiday homes to rent.
If you love the mind-boggling Scottish Ballet and the Scottish Opera, Glasgow City is the place to be. Aside from being the quarters for some of the remarkable Scottish museums like St. Mungo Museum Religious Life, the Museum of Transport and the highly acclaimed Scotland Street School Museum. The city is bequeathed with plentiful other attractions to entice its tourists. These areas hold profound significance not just as places of a vibrant history and culture but also as tourist wealth earners. Glasgow also has reputed pedestrian shopping avenues such as Buchanan Street and Sauchiehall Street.
Scotland is ranked amongst the best places in Europe to have a relaxing vacation while renting a self-catering holiday villa. It has a great panorama, warm, friendly and generous people and delicious food and whisky making it the perfect place for taking a vacation. Many tourists like to tour Scotland during Christmas and the New Year to participate part in the famous New Year's Eve festivities. Tourlina is an app that allows the international female tourist to meet travellers. For more information on how to meet travellers visit our site.