Generally eschewing the more garish entertainments and temporary developments of some of its Mediterranean neighbours, Portugal's Algarve coastline has proven to be a quiet alternative for couples and families looking for affordable, extremely picturesque and laid-back European holidays.
A meandering coastline that combines award-winning golf courses with small fishing villages and a few larger towns or cities (namely Faro), Algarve holidays remain a popular choice because they largely shy away from huge resort-y type constructions or massive beachside resculpting.
This is excellent news for travelers with children who are looking for a gently-paced seaside holiday that doesn't lack charm, beauty and local flavour for mum and dad.
Highly recommended is Tavira, often cited as one of Portugal's prettiest towns, and with a combination of ancient Moorish, Phoenician and Roman history, it also boast some lovely architecture – with over 35 churches amongst its white washed walls and easy combination of the old with the tastefully new.
Protected by a natural lagoon, this is a lovely place for families wishing to take advantage of local golf courses nearby (the area is very popular for golfing) or indeed use the town as a base for trips along the coast to smaller coves and beaches.
Caroveiro – a short drive from Faro's airport – is another resort in the Algarve which has a history of tourism but still retains a fisherman's feel, and is therefore a lovely quiet place for a family base. With a bit more quiet and shelter than the scorching Praia da Rocha or Lagoa, we would recommend it for smaller families and younger families especially.
Praia da Rocha, a stunningly long strip of land whose exposure makes it an excellent place for sun worshippers, is a much busier resort on the Algarve – again, well worth a visit but if you've got small children and are worried about sun exposure or crowds, probably best to wait until they've grown up several years.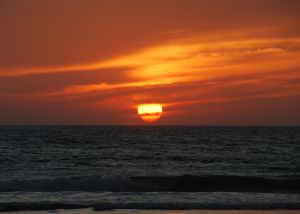 [Sunset in Sagres]