Bangkok, the capital of Thailand, is a popular getaway spot for Indians as well. We already feel so close to Thailand, thanks to the Thai restaurants at every corner and the Thai martial art movies we watch. Add to that, Thailand is geographically close to us, the beaches are heavenly, and one can always find Mumbai to Bangkok flights at low price on travel sites like Yatra and similar, due to the number of flights flying there. If you haven't been to Bangkok yet, you should seriously consider this very affordable foreign tour. Moreover, once you are in Bangkok, these are the places you must visit and take selfies at.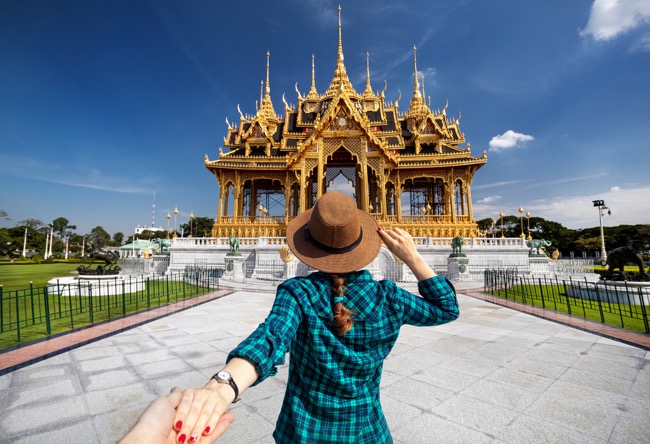 Wat Traimit Temple
The golden Buddha which weighs more than 5 ton and is more than ten ft. tall. This is in the Chinatown locality of the city, and everyone knows about it. So, expect your taxi driver to take you there quickly.
BTW, when I said, golden Buddha, I didn't mean the colour, I meant the ingredient. Yes, this statue is made of 5000 Kg of pure gold! To hide its real value, there is a coat of plaster on the exterior. The statue and the temple are around 800 years old.
Lumphini Park
If you have a perception of Bangkok as a noisy, thickly crowded and polluted city, you will change your ideas once you visit Lumphini Park. Check out the images on Yatra or similar travel sites to realise what I am talking about. This was originally planned to hold Thai crafts, art and flora and fauna. This vast expanse of greenery is right at the centre of Bangkok, and people come here to relax, meditate, enjoy evening strolls, pass the time with a lover or to take a quiet paddle boat ride. While walking around the water bodies, you can even get to see a Water Monitor Lizard, a crocodile shaped but a rather harmless amphibian reptile.
Visit Lumphini Park on Sunday afternoon, preferably, so you don't miss the free public music concert.
Wat Pho
This is the second religious place on my list, makes me a pretty spiritual writer, doesn't it? This is the Temple of Reclining Buddha, one of the oldest and the largest temple of Bangkok. Apart from housing the largest Reclining Buddha idol, it also has the largest collection of Buddha images in Thailand.
Again, this enormous Buddha, 15 ft high and 46 ft long is plated with pure gold. With so many 'largest' describing the temple, this is a must see for the tourists.
Royal Palace
Called Dusit Palace, this is a modern structure with European style architecture, built during 1897 to 1901, by and for King Rama the Fifth. You must visit Vimanmek Mansion, made from rare golden teak wood. This is world's largest wooden palace and has more than 30 rooms for demonstration alone. Then there are the commonly used rooms along with the throne room.
Visit the Grand Palace before coming to Dusit Palace because that ticket will grant you free access to this palace as well.
JJ Weekend Market
Finally, some shopping time, please? People call it JJ Market while the technical name would be Chatuchak weekend market. This is the largest weekend market in the world, going by the attendance. There are more than 8000 shops (!!) to visit, and they sell almost everything under the sky from antiquities to modern electronics gadgets, via clothes, furniture, souvenir, food, utensils and what not!
More than 200,000 people visit this market, and there are multiple entertainment events as well.
Avoid the Bangkok summer if you could, but on the other hand, hotels and airlines come up with solid discounts during this time. You can find Mumbai to Bangkok flights at low price during this period as well. We Indians can handle a little heat, can't we?