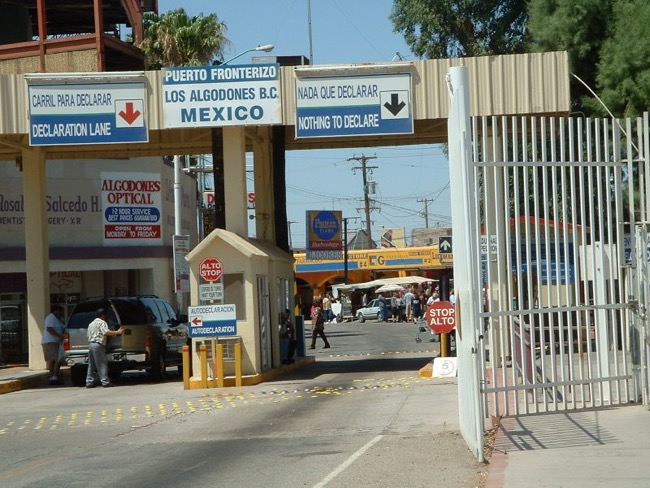 With the soaring costs of dental treatment throughout Canada and the U.S.A., many families are looking for cheaper alternatives to satisfy all their dental health requirements. Whether it's something simple, such as annual check-ups or fillings, to more complicated procedures like dental implants or root canal surgery, the cost of treatment can be quite prohibitive. Los Algodones has earned a reputation as the "dental capital of the world". Here, we'll take a look at 5 reasons why this Mexican border town has become one of the most popular dental tourism destinations on the planet:
1: Price
In the current economic climate, saving a few bucks here and there can make all the difference. Literally thousands of Canadians and Americans have discovered that they can more than half their dental bills simply by travelling to Los Algodones to undergo treatment. In general, savings of between 60%-70% can be made compared to the prices being charged domestically.
There are a number of factors that contribute to keeping dental costs down in Los Algodones. Operating costs and property rental fees are distinctly lower in Mexico compared to Canada and the United States, which means surgeries can charge patients less for their services. Labour costs and insurance fees are also significantly cheaper across the border, enabling clinics to lower prices even further. By way of comparison, undergoing an All-on-4 dental implant procedure in Los Algodones usually costs about USD $10,000, whereas the same treatment in the U.S. normally costs somewhere in the region of USD $26,000.
For many families in the U.S. and Canada, transferring their dental health requirements to Los Algodones is the only cost-effective way of maintaining a healthy, regular dental care regime.
2: Quality
Dentists in Algodones are subjected to the same rigorous training as their American counterparts, which means that the treatments they deliver are to the exact same standards as domestic dental surgeons. Many Mexican dentists have completed some, if not all, of their training abroad in countries such as Australia and the United Kingdom. They are, therefore, fluent English speakers which negates the need for visitors to be able to speak Spanish.
A large number of dentists in Los Algodones have actually completed their training in the United States and are members of the American Dental Association, guaranteeing the same quality of service that patients would expect to receive from their dentist back home. Specialists are also likely to be members of international organizations, like the International Congress of Oral Implantologists. There is also no shortage of options when it comes to finding a suitable dentist in Los Algodones. With more than 300 dental clinics employing over 900 dentists, the town boasts more dentists per capita than any other destination on the planet.
3: Procedures
Just about every dental requirement can be satisfied in Los Algodones. There are expert surgeons readily available to perform complex surgeries such as All-on-4's and dental implants. Root canals, dentures and dental veneers are also widely treated, whilst many families book their annual dental check-ups in Los Algodones and undertake less intricate procedures at the same time, such as dental fillings, teeth whitening and dental crowns.
4: Location
Los Algodones is the northernmost town in Mexico and is conveniently situated 7 miles west of Yuma, just off the southern borders of both Arizona and California. The town is approximately 1 mile from the international border in Andrade and can be easily reached on foot from the checkpoint. The checkpoint itself is easily accessible by car and drivers are advised to follow Interstate 8 and State Route 186, which lead directly to the border.
Yuma is the closest airport to the border, being just a 30-minute cab drive away from the checkpoint. There are plenty of services into other airports such as San Diego, Phoenix Sky Harbour and Palm Springs, although there is a 2.5 to 3.5 hour car journey to Andrade from these locations so car rental will need to be factored in from the airport. Most U.S. car insurance companies do not provide cover for driving into Mexico, but tourists can purchase temporary Mexican car insurance in Yuma before driving to the border.
5: Vacation
Many dental tourists use the money they've saved on the cost of their treatment to enjoy an exotic vacation in Mexico at the same time. Whilst much of Los Algodones is dedicated to providing dental and medical services, there are still a selection of shops, bars and restaurants that cater for the needs of international visitors.
However, there are many other Mexican destinations that dental tourists like to visit, either before or after their treatment. Some of the most popular places of interest include Mexico City, one of the three largest cities in the world that offers visitors everything from modern shopping complexes and vibrant night scenes to museums, colonial architecture and Aztec ruins. Acapulco is a favourite for those who enjoy the beach scene and rowdy nightlife, whilst Monterrey provides a more modern, commercial city experience against the backdrop of the dry, mountainous landscape of northern Mexico.
In Conclusion
Whilst price is obviously a major consideration when it comes to arranging dental care, quality is equally as important. Los Algodones ticks both of these boxes and offers more besides. From its convenient location by the US-Mexico border to its friendly and accommodating people, this Mexican border town provides the ideal gateway for tourists to combine their essential dental treatment with an exotic foreign vacation. Is it mere coincidence that over 3,000 visitors cross the border every day to take advantage of what Los Algodones has to offer?