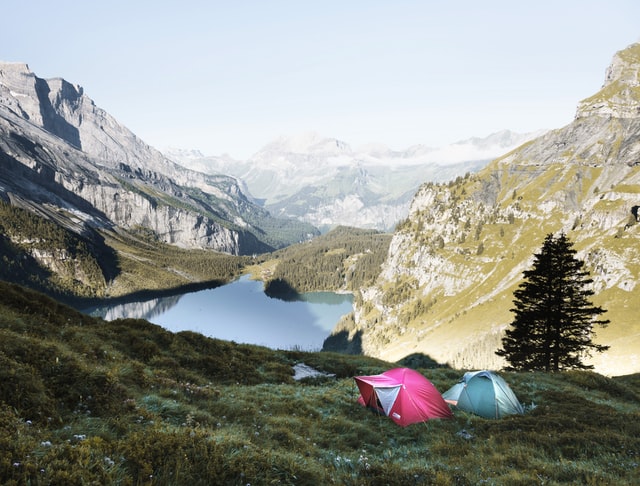 There's nothing like spending time camping in the great outdoors. Few trips really bring friends and family closer together than spending a night or two under the stars.
But like all trips, you need to plan out your adventure to get the most out of it. There are plenty of things to think about, but if you can nail down the key points, you'll have an amazing time.
Here are five tips on how to have the best camping trip ever.
1. Find "The Spot"
"This is the perfect spot."
That's what you want to be saying when you're setting up camp.
There are so many places across the country, from remote sites where you rely on nothing but your wits to campsite resorts where the only thing you need to worry about is where you put your tent.
Whatever you plan on doing, choosing the right spot will make the trip so much easier. For example, you can download apps on your phone to find all sorts of useful information about the campsite you find interesting, while guides and review sites can give you the perspective of those who have been there and done it already.
No matter what you pick, don't try and do too much, especially if it's your first time. Choose the location where you won't be struggling to be self-sufficient. For example, if you want to immerse yourself in nature but not have to do your business in a hole, then National Park campsites could be the ideal solution.
If you're taking the kids, then you may wish to choose a site with plenty of activities so they can let off some steam.
Do your research. Don't just see some nice pictures on Google or social media and think that's that. While they may look great, they may not be telling the full story.
2. Prepare For The Worst
If you fail to prepare, then prepare to fail. You may have heard this before, but it's certainly the case when it comes to camping.
One of the best things about the experience can also be one of the worst things: Mother Nature. You are at her mercy in your tent. The weather forecast may suggest nothing but sunshine and rainbow, but it can change in the blink of an eye.
For this reason, in order to have the best camping trip ever, you must prepare for the worst. Always make sure you have waterproof clothing and protection for your tent and belongings. There's nothing worse than being away from home and having to sleep in a cold, damp sleeping bag.
Check for water flow before settling down. For example, cracks are a sign of hard ground so any rain that falls won't all absorb and form a puddle instead.
It's also worth making a backup plan if things get too bad and you must leave early.
3. Be Comfortable
Camping is all about doing something a bit different, but if you don't get enough sleep, it won't seem like a great deal of fun.
Bedding is an underappreciated comfort. You don't appreciate it until you don't have it. A tent, sleeping bag and blow-up mattress may keep you off the floor, but it still won't cut the mustard. For those of you going for the first time, the last thing you want is a bad experience that will prevent you from going camping again.
The same goes for a tent. It needs to stay up and not fall down every two minutes. Check out this list of peer-reviewed tents from Gift Wits titled 21 Best Camping Tents to Buy in 2020.
It's easy to judge the quality of camping gear by its price. Cheaper items are meant to only be used once, while higher-quality gear comes with the bigger price tags. That said, you get what you pay for. Don't be afraid to spend a good part of your budget on comfortable bedding and excellent shelter.
4. Pack Toys
As great as being in nature is, it can get quite samey once you're ticked off everything on your list. If you've done it all with a few days to spare, it's no good sitting around all day being bored.
Make sure you pack some toys to enhance your experience. By toys, we mean camping-related items; pack a surfboard if you're going somewhere close to a beach, bring a fishing rod if there'll be a lake nearby, take a bike if you're staying in the woods for a rural adventure, or a book or two to sit by the fire and read.
Anything you love doing day-to-day will be even better while you're camping. Imagine everyone sitting in a circle playing some board games while being surrounded by nature. It's just as good as it sounds.
Don't forget to pack some stuff for the kids too.
5. Keep It Simple
The first time is always the hardest and the most stressful. If it's your first time camping, chances are that it's not going to be the perfect trip. At least one thing is going to go wrong or something will happen that you didn't plan for.
But don't worry. It's all part of the learning curve. You're not going to be the only people in the world that are going through the same experience.
Keep your first trip as simple as possible. This prevents a lot of stress building up and avoids the pressure of keeping everyone happy.
The best way to ease you in is to camp somewhere close to home. You'll know the area and if you do forget to pack something, you can pop back in forth in no time.
Practice a few things at home before you set off. For example, try setting up the tent in your back yard so you know what you're doing when you arrive at the campsite. Doing a practice run will also help you realize all the little things you need that you may otherwise forget.
The more camping trips you go on, you'll be better equipped to handle different situations.