A traditional canon blast signals the end of another sunny day in Panama City, but visitors to Panama have many options of things to do after the sun goes down and Panama City has a very active nightlife. Panamanians love to party; eating drinking and dancing are all part of the culture. So, it isn't surprising that the city is home to scores of nightclubs, discos and casinos as well as ballets, theaters and concerts.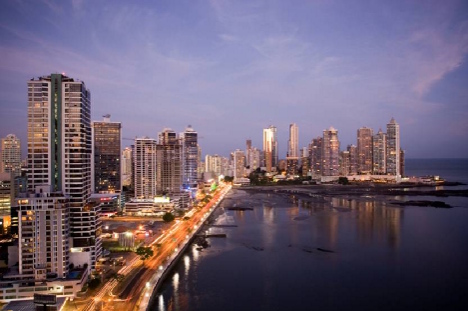 However, since nightlife in Panama doesn't start until at least 10 at night, most of the nightclubs are empty until about 11. The Casco Viejo area is a great area for bars in Panama, and therefore is a great place to start the evening with a drink or light meal. Many pubs and bars also offer darts, billiards and even karaoke and nightclubs offer many kinds of music or comedy revues. By that time, it should be about 11 and you can really "go out" and enjoy the rest of your night.
Another good way to start an evening's entertainment in Panama could be at the President Remon racetrack where, on Thursdays, the card extends after dark for night-time racing. Panama has a reputation for outstanding jockeys and thoroughbred horses; therefore it is not surprising that the President Remon Racetrack should be a popular sporting venue for both Panamanians and visitors alike. The viewing stands are comfortable and visiting the parade ring before each race to choose a horse will generate even more excitement in the race.
Panama is home to many casinos and visitors looking to try their luck at the gaming tables will not be disappointed. There are eight complete casinos in Panama City (and more outside the city) with games such as roulette, black jack, baccarat, craps and poker. In addition, there are slot machine casinos and bingo halls for those who prefer those types of games.
For live music fans there are a variety of clubs and nightspots that feature local and regional bands that perform everything from rock-n-roll to island beats to country. And Casco Viejo (the old city), is known for bars featuring jazz in particular.
Those interested in a more cultural night-time experience should make a point to see one of the several folklore shows. Each province of Panama has a varied Folklore reflected through its dances, music and cuisine. Lively professional shows are performed every night of the week at various venues in Panama.
If you would like to learn more about Panamanian folklore, traditional dances and the beautiful national dress (the pollera), make sure you don`t miss a folklore show where visitors enjoy a delicious dinner, traditional music and learn about local customs.
Panama has few rivals in the quantity and quality of its tourist attractions and a cosmopolitan capital city with a non-stop nightlife. Whether you prefer culture or casinos, racing or rock and roll, there is something for everyone to do in Panama after the canon blasts.
Guest Post by Veneto Panama hotels.