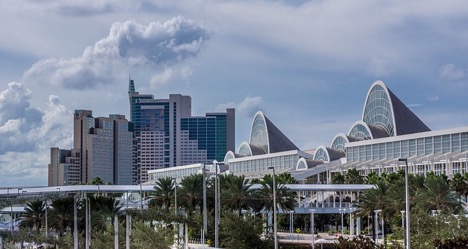 Orlando, Florida is a hugely popular destination for families at all times of the year—so much so that some have dubbed it "the Vacation Capital of the World." Certainly, Orlando is the Theme Park Capital of the World, with many of the world's biggest and most iconic amusement parks taking up residence in the Greater Orlando area.
Orlando's preponderance of theme parks makes it an almost guaranteed hit for families with kids and teenagers. However, the city's charms extend past the borders of Disney World or Universal Orlando Resort. Indeed, the famous Florida city has enough draws to attract young guests and older travelers alike. Below, we've compiled our top four favorite sites in the Orlando area. Whether you want to get back to feeling like a kid again or avoid the theme parks entirely, this list has something for you.
1. Walt Disney World Resort
For guests young and old, no visit to Orlando is complete without a trip to Walt Disney World—especially if you haven't been before. There's something about exploring the Magic Kingdom and reconvening with Disney's most iconic characters that take you back in time to an age of innocence and possibility. The best thing about Disney World, though, is that is isn't just one theme park. On the contrary, four main parks make up the Disney World Resort: Magic Kingdom, Epcot, Disney's Animal Kingdom, and Disney's Hollywood Studios. Across these four parks, there are many different experiences to be had, from thrilling rides to live shows, all the way to unique educational and cultural enrichment activities. In addition to the four main parks, there are also two Disney water parks—either of which is ideal for spending a day out in the sun. There's a reason why so many families that come to Orlando spend the bulk of their days exploring Disney World.
2. The Wizarding World of Harry Potter
For the purposes of showing Orlando's eclectic array of attractions, we tried to keep the number of theme parks on this list to two. As a result, there wasn't space for renowned draws like Legoland, SeaWorld, or Gatorland. However, Disney World is arguably what Orlando is most famous for, while this theme park, the Wizarding World of Harry Potter, will almost certainly appeal the most to a significant subset of Orlando tourists. The Harry Potter books and films have captured the imaginations of countless readers worldwide, and the Wizarding World of Harry Potter is the only place in the United States where J.K. Rowling's world truly comes to life. If you have a Harry Potter fan in your family or group, this park—part of the Universal Studios Islands of Adventure—simply cannot be missed.
3. Kennedy Space Center
Another major tourist attraction in Orlando—though not necessarily a theme park—Kennedy Space Center is a showcase of the incredible ingenuity of America's space program. The Visitor Complex is one of the coolest museums in the world, with exhibits that show off the Atlantis Space Shuttle, remnants of the legendary Apollo program, and a truly impressive "Rocket Garden." You can also go through a simulator that recreates the feel of a shuttle launch, scratch your stargazing itch with a 4K telescope show, and meet real-life astronauts. Whether you're an adult who lived through the glory years of NASA or a child with eyes toward the stars, a visit to Kennedy Space Center will make you believe the impossible again.
4. The Charles Hosmer Morse Museum of American Art
While everyone else is exploring the top tourist experiences that Orlando has to offer, slip away to this one-of-a-kind art museum. Mainly focused on the works of Louis Comfort Tiffany, the Charles Hosmer Morse Museum of American Art features perhaps the world's most impressive collection of stained glass window art.
Of course, there are so many other attractions to explore in Orlando too. Whether you love sports, wine, beer, food, or nature, there is a place within the Greater Orlando area calling your name. And from an excellent resort hotel like the Westgate Lakes Resort and Spa, you can enjoy everything the Orlando area has to offer with comfort and luxury aplenty.