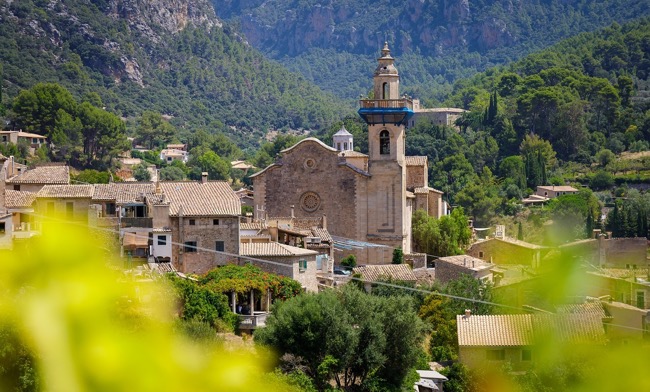 The island paradise of Majorca (Mallorca in Spanish) is simply wonderful. Perfect beaches, stunning relics from the past, a rich cultural history, fantastic views and we're just scratching the surface. As such, thousands of tourists go through Majorca each year. Accommodation ranges from basic all inclusive apartments to luxury offerings such as the Iberostar Grand Portals Nous luxury hotel, a grand affair with plenty of extras.
If you are planning a luxury break there are plenty of hidden secrets Majorca hotels have to offer. Let's take a closer look at what these are.
It's a Fantastic View but more than that
Majorca luxury hotels tend to offer spectacular views of the sea. The Mediterranean is normally clear and beautiful. A good view, however, is enhanced if you can engage your other sense as well as your vision. The sound of the waves and the feel of the breeze brings a place alive. Perfect for summery nights on the balcony drinking your favourite cocktail or simply relaxing in the mid afternoon sun.
Iberostar has hotels that cater to this end and all come with various options. They have more than 15 hotels in Majorca so you have plenty of choice and are a good place to start your trip.
Better call Jeeves
A little known fact is that luxury hotels often come with a butler service. The better hotels feature butlers that have been trained by the British Butlers Guild. They advise on the best floral scents for sleeping and provide a list of butler services that you probably didn't know exist. They will look after you presenting tea and ginger in the morning to ensuring your every need is catered for throughout each and every day you stay. It will be just like having a butler!
When you sleep in aromatic scents and on the finest beds money can buy you tend to have the best night's sleep you've ever had. Especially if a glass of champagne has been enjoyed during the night!
Finest Food in the Finest Hotels
Luxury is at the heart of the best hotels and this extends to the kitchen. There is nothing quite like eating breakfast taking in a perfect day with the smell of something warm and baked engaging your senses.
Given the Mediterranean Sea location the fish dishes are to die for. The best hotels feature a fresh catch every day and if that is not your thing, there is always something to drink in the champagne bar.
Majorca hotels add that little bit extra by having fresh food cooked the Majorcan way. This will delight your taste buds and bring a local flavour to your stay.
Luxury Hotel Luxury Health
Most good hotels offer relaxing spas and massages but a hidden gem are wellness bars. Here, you can drink the healthiest nutrient packed drinks, take in healthy snacks and detox. Add to this massage services and relaxing in salted scented baths and you can take pampering to a whole new level.
Not only will your tan make you look healthy, but you will feel healthy and indeed, be healthy!
Surprise your Partner with Luxury Requests
Luxury is made possible by having the right connections and the best hotels are connected to the right people. This means that if you want to surprise your partner with something many would consider outlandish you can.
This can include a trip on a private jet or luxury yacht. Horse riding through the mountains. The list is endless. Whatever you can imagine good hotels can make it happen.
Hidden Elegance and Splendour
Luxury is the word that runs throughout good hotels. It is everywhere you look and yet some of the best elements are hidden in plain sight. From award winning architecture to interior designs inspired by artists, there is something there often just below the surface for you to digest.
This environment is there to be savoured and enjoyed. The luxury is something you have worked hard for so appreciate it.
You may want to look closely at the artwork on the walls and see if it was created by one of your favourite artists.
The Best Shopping Closer than you Think
Luxury hotels not only offer you the best accommodation they offer you the best shopping. The better ones are situated near to luxury boutiques, upmarket stores, the best restaurants and exclusive items that are beyond the reach of many.
It is unlikely you will not come back with something fantastic after a day's pursuing the most exclusive stores. If you're not sure where to go simply ask your butler!
Majorca luxury hotels should be experienced at least once. We all deserve that little bit of elegance in our lives and a chance to relax, enjoy, and unwind.
If you're heading to Majorca soon, check out the luxury hotel market. It will be worth it!