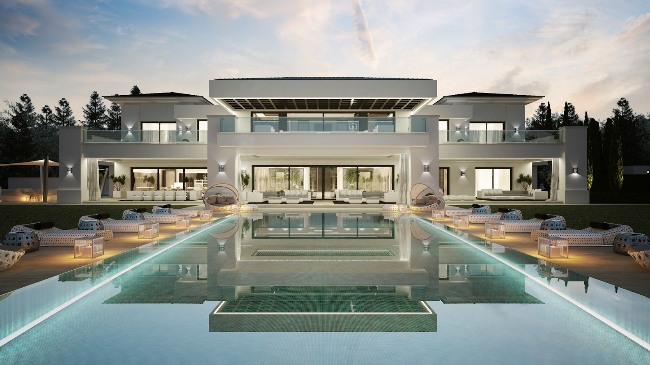 The Costa del Sol is one of the most beautiful regions in Spain, and with gorgeous weather, amazing views and the famous Mediterranean lifestyle on offer, it is no wonder that people make this the place of choice for getting away from daily life each year on vacation.
For those looking for something extra special, there are some luxury villas for rent in Costa del Sol that have the best facilities and service, guaranteeing that your stay is stress-free and enjoyable. All you need to do is relax and enjoy being somewhere amazing. These villas are set to cater for the more discerning guest who wants to feel like they are in a five star location but with the privacy not offered by a hotel.
Marbella is a great location for a world class holiday
Formerly a sleepy fishing town, Marbella is now a busy, modern town yet still retains a lot of the charm of its former life. There is a great range of choice of luxury villas in Marbella to rent, some are even directly facing onto the beach, so you can wake up to sea views and a morning stroll along the sand every day.
You can enjoy peace and quiet for your break, and maybe even choose a location with its own swimming pool for just yours and your family's use.
A Guest Experience Manager can help you find the exact thing you are looking for that meets all your needs, and liaise directly with the villa owners to make sure everything you need during your stay is catered for, and will be on hand during the holiday should you need help.
La Zagaleta is the best of the best and privacy is key
For those who want to be close enough to all the amenities on offer in Marbella, yet do not want to be in the middle of tourist heaven for security or privacy reasons, then the La Zagaleta villas for rent are a perfect option.
It is an exclusive complex of around 900 hectares, situated just a fifteen minute drive from Marbella, and only 60km from Malaga airport, so it is very easy to get too and from the complex.
It is one of the most exclusive holiday locations in the world, and the best option for ultimate luxury. The villas themselves are effectively mansions, and range in price from 5 to 25 million euros, and each carefully designed and planned for visitors who are used to the finer things in life.
There are just 230 properties here, privately owner, and with enough space and forest between each of the villas to make sure that privacy is guaranteed. The whole complex is fenced and security monitor the site 24 hours a day. To give you an idea on how secure this place is, it is not even viewable on Google maps.
Puerto Banus is the playground of the wealthy
Of course if you prefer to be a bit closer to the action, but not compromise on quality the you should consider booking one of the luxury villas in Puerto Banus to rent. This is the place where billionaires take their yachts to relax on holiday. The restaurants in the port are amazing and the shopping second to none with all the top end labels available.
It is also a great location to be able to slip out and go explore the rest of the Costa del Sol, or even head to one of the local golf courses.
The marina of the port itself is modelled on those in the French riviera, and has the same levels of class and style.