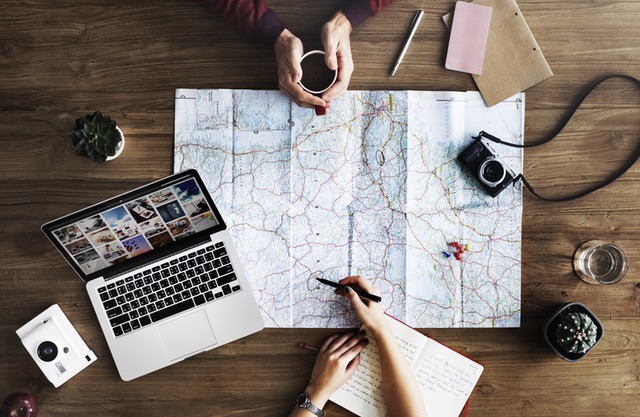 Are you planning on traveling abroad in the near future?
Unless you're independently wealthy, you'll probably have to work at some point in order to earn enough money to survive.
It's difficult to get jobs while traveling, but it's definitely not impossible.
If you plan ahead correctly, and think about things strategically, you'll be able to do all sorts of part-time jobs or freelance work that will put real money in your pocket as you get to live your dream of traveling across the world.
Teaching English
At some point during your travels, you may decide to temporarily set down roots while you are traveling overseas.
If this is the case, you're in luck because you could consider teaching English to children or adults looking to learn the language.
More often than not, you'll need to have some type of a certificate like a TEFL, TESOL, or ESL in order to qualify to teach English. You'll also need a bachelor's degree.
If you already have a bachelor's degree, you're in luck because the certificate fee is relatively inexpensive. As a matter of fact, you can pay as little as $300 or less to qualify to teach English while traveling abroad.
To tell the truth, it's still possible to teach while traveling abroad even if you do not have a certificate.
One example is to provide your services independently.
Place advertisements in a community newspaper, library, online, or in any other high-traffic area and see what happens.
For some of us, this method might even be better because you might get away without the need for a work visa.
If you do not want to charge for your English teaching services, you could always offer them as part of a trade and ask someone to provide free room and board if you teach them how to speak English.
Becoming a Freelancer While Traveling the World
Freelancing is a great way to make money while traveling the world.
And the cool thing about freelancing is that there are so many different types of jobs you can do.
If you have the ability to write, you can become an article writer, a copywriter, or you can even become an independent author. The sky's the limit if writing is one of the skills that you possess.
But it's not the only way to make money as a freelancer. Far from it.
Are you a graphic designer? Offering graphic design services is another excellent way to make money while traveling.
Maybe you're a photographer. Becoming a travel photographer pays well and there really isn't a huge barrier to entry. Get yourself a nice-sounding domain, buy a hosting package, set up a free WordPress site and – voila! You are on the market!
How about becoming a virtual assistant? Companies are looking for high quality, motivated virtual assistants all the time.
If you manage to find a company that fits well with your schedule, you'll be able to make money providing freelancing virtual assistant services as you get to see the world in all of its glory.
More important than anything else, make sure you stay stay healthy and well. Juggling work and traveling can be tiring. In some cases you can use nootropics to give you energy boosters. When ordering, make sure to use well-known online shops such as Corpina.
Make Money through Crowdfunding
Instead of working while traveling abroad, you can be like many other people who have raised money through various crowdfunding campaigns.
Why crowdfunding?
For starters, it's a great way to get people to fund important projects online – like traveling the world for instance.
It's also really easy to share on social media, which will get plenty of eyeballs on your crowdfunding page that will ultimately lead to more donations.
Conclusion
Now you know that it's possible to earn a living while traveling the world. Please try these suggestions to see if any are the right fit.