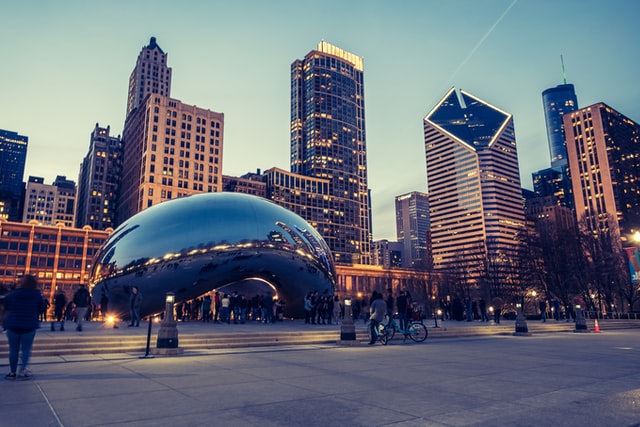 The city of Chicago has plenty to offer, even if you're there for just a short while. From iconic attractions to unique city experiences to explore, there's not a moment where you'll feel bored or not know what to do next.
Here' show to make the most out of a trip to Chicago if you only have one weekend.
Visit The Art Institute Of Chicago
From the stunning bronze lions outside to everything else inside, the world-renowned Art Institute of Chicago is a must-visit attraction.
It's one of the oldest art museums in the US, featuring collections from a wide range of impressionists – so much so that it rivals the Louvre in Paris.
The Modern Wing is also stunning in its own right. There are all sorts of contemporary pieces from artists like Matisse, Picasso, Warhol and a whole lot more. If you work up an appetite, check out the Modern Wing's upper level. Here you'll find Terzo Piano for some fine dining and stunning views.
There is so much to do here that we can't fit it all into one article. We wouldn't be surprised if you spent the entire day here and did everything else the day after.
See The Bean And Go Rock Climbing
When you're done browsing, take a trip across Millenium Park over the Nichols Bridgeway and check out Chicago's breathtaking architecture and sculpture in one single location. From the Crown Fountain to The Bean, you'll soon see why this area is one of Chicago's hotspots. If you visit during the winter, you'll have the chance to go ice skating in front of The Bean too.
Exit Millenium Park and head to Maggie Daley Park. here you'll find a bunch of activities to get the blood pumping. There are tennis courts, a play garden and a rock-climbing wall if you wanted to do something a bit different.
Check Out The Chicago Cultural Center
The Chicago Cultural Center lies on the corner of Randolph Street and Michigan Avenue. It's famous for housing the world's largest Tiffany stained-glass window. Make sure you take a picture because it's something you'll want to remember.
The entire building is the perfect destination for anyone that loves the humanities. It plays hosts to concerts, theatre, lectures, exhibitions and other events all year long.
Best of all, it's all free.
Visit Buckingham Fountain
Buckingham Fountain is one of the largest fountains on Earth. It's the city's take on the Fountain at the Palace of Versailles. From early summer to late fall, Buckingham Fountain puts on a show for everyone to enjoy. The display is 20 minutes long and runs every hour between 9am and 10:30pm, with a jet of water reaching 150 feet in the air. The evening shows are accompanied by lights and music to provide further entertainment.
Browse Picasso And Chagall Street Art
Staying on the theme of public art, you'll find that Chicago provides as much value on the street as many museums around the world. Daley Plaza and Chase Tower Plaza are two prime examples that show why.
The main event at Daley Plaza is Picasso's 50 foot sculpture of brilliance but it does not have a name. In fact, upon its debut, it sparked controversy as people started to compare it to an insect. Nowadays though, it's a symbol of the city.
Chagall takes centre stage at Chase Tower Plaza. The Four Seasons mosaic is a tribute to spring, summer, fall and winter and is made up of fragments to create more than 250 different colors.
Explore The Museum Campus
South of Buckingham Fountain is the Museum Campus. This is where you'll find the most popular museums in Chicago. For example, the Field Museum features artefacts that date back thousands of years, including the bones of the biggest dinosaur ever discovered.
There's also the Shedd Aquarium where you will encounter over 30,000 different creatures from our oceans, including dolphins, species of whale, sharks, penguins and more.
If you want even more nature, make sure you head to the Adler Planetarium. It's more than just your run of the mill museum. It's a place of learning and where people can come together and explore the wonders of the universe. There are interactive exhibits, live shows and collections to enjoy here.
Stand On The Ledge
Have you ever wondered what it would be like to walk above the city on nothing but air? If so, Willis Tower gets you the closest you're ever going to get. The Ledge is a glass box that reaches into the Chicago skyline with nothing to stand on except a glass panel. It's a surreal experience.
While you're there, check out the stunning views from the Skydeck. In similar fashion to many of Chicago's attractions, Willis Tower is one of the world's tallest buildings, so you can only imagine what it's like to see this great city from a completely different perspective.
Enjoy The Music
You can't go to Chicago and not visit at least one of these two music clubs: Buddy Guy's Legends and Jazz Showcase. Buddy Guy's Legends is named after the legendary Buddy Guy and provides live music every night. The shows are free to attend if you go during lunch of at dinner. Jazz Showcase also hosts nightly shows and has seen some of music's biggest names play there.
Relax Along The River
While there's so much to do in Chicago, sometimes it's just nice to put your feet up momentarily and chill out. The Riverwalk is the perfect place to do just that, with over 1 mile of restaurants, bars and other relaxing activities to enjoy.
One notable attraction is theMART – not the building itself, but the art that is projected onto it. Between 7:15 pm and 9:15pm, take a sit back and watch the show. It's on every evening between May and December, but only from Wednesday to Sunday between March and April.
Stay Downtown
You won't be able to really get the most of your trip if you stay out of the city. You may have to skip at least one of these activities because you'll have to get back to your stay. For this reason, make sure you check out this list of hotels from CoolThingsChicago so you're never far away from the action.