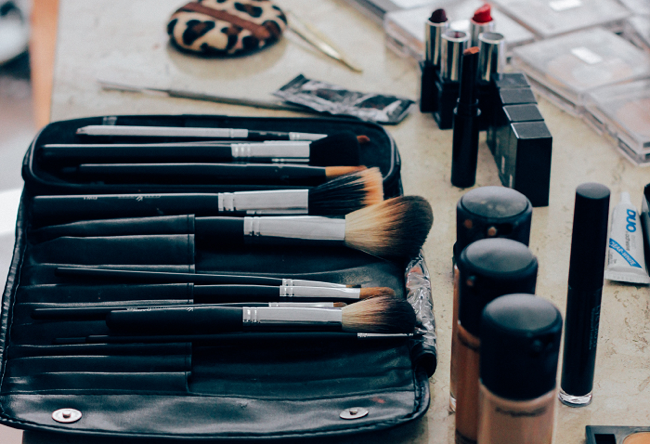 Living at home offers the comforts of using a morning routine before you start your day. From make-up to hair styling, everything you require for your beauty regime is available at your fingertips. Traveling not only changes the variety of items you'll use, but also alters the accessibility of your go-to products. Learning how to pack a beauty travel bag eases the hectic nature of traveling and shortens your time for getting ready on the go. Here is our guide on how to pack a beauty travel bag.
Check with The TSA Guidelines
To ensure the safety of every passenger, the TSA established rules for what travelers can pack including make-up and personal hygiene products. As of January 2019, SmarterTravel reported that liquids and gels are acceptable in checked luggage or shipped ahead to your destination. However, only a certain amount of liquid/gel products are allowed for carry-on baggage. Your beauty products can weigh up to 3.4 ounces (100 milliliters) or less and must be placed inside one clear, plastic, one quart-sized, zippered bag.
Liquids and gel products that would count towards the 3.4-ounce restrictions include liquid mascara, sunscreen, hand sanitizer, and gel/spray deodorant. General make-up such as lipstick, solid lip balms, and powders aren't subject to restrictions in your hand luggage. Nothing is worse than packing exactly what you need only for your accessories to not accommodate the TSA's guidelines. Their instructions differ between traveling within the United States and overseas, so it's vital to stay up-to-date.
Create A Packing Checklist
Keep your beauty travel bag organized by compiling a pre-packing list divided into various categories: make-up, hair, and hygiene. What do you use in your everyday beauty routine? Or when you attend a business conference or enjoy a night on the town?
Based on your answers, decide what could be packed away in your checked-luggage versus a carry-on and whether the latter follow the liquid-gel or solids 3-1-1 rule. Research alternatives for liquid and gel products for travel size or a solid alternative. Double check that you're not holding onto superficial "just in case" items unless they're a priority for medical or health reasons.
Don't Forget Your Skincare and Acne Products!
With hundreds to thousands of pieces of luggage transported between numerous airlines, it's easy for baggage to be inadvertently damaged. Some skincare items can make travel messier if there is a leak or broken seal, especially if they're packed with other essentials like clothing, shoes, and souvenirs. If you plan on using a travel size facial cleanser, exfoliant, sunscreen, or moisturizer, research if there is a variety of packaging options, sizes, and ingredients. P.S – Did you know that leaving on sunscreen and makeup is one of the leading culprits for causing forehead acne? So don't forget your favorite facial cleanser – the bar soap at your hotel won't cut it.
Liquid-free toiletries decrease the chances of other items getting stained, while soft tubes are more malleable than rigid bottles. Compartmentalize your skincare products into a small plastic or cloth carrying case with the rest of your luggage to secure them in one place and make it easy to clean in case of a spill. It's always better to be safe than sorry!
Maximize Space in Checked Luggage
Restrictions for carry-ons are stricter than checked luggage, so you might feel inclined to fit as many other products into your other bags as possible. Make the packing process easy on yourself by taking a minimalist approach. Take a deep inventory of what you will need before reaching your destination, and perhaps even dispensable items you can buy once your trip officially begins.
Create additional space by packing items that can be used for more than one purpose. For example, you might not need a luxury body wash, shampoo, and conditioner when one will do the trick. Or consider how you can apply one or two eye shadow palettes or lipstick shades for day-to-day use as well as nightlife, shopping, etc. You'll be surprised by how much space you can create when you think outside of the box about what you need and why.
Ready to Travel?
With the proper amount of preparation, traveling doesn't have to be an obstacle. Keep your checklist and carry-on bag ready for future trips, and replace what you require as you go. This will trim the hassle of having to repeatedly re-assemble items for your luggage. Be creative about the products you plan to carry and how you can use them for more than one occasion. No matter how short or long your next adventure might be, there's no reason that you can't feel beautiful and confident every step of the way.