This is a guest post from HotelClub, offering deals on Downtown Los Angeles hotels.
Much like the metropolis of 18 million people, the food scene of Greater Los Angeles is tough to pin down. L.A. is defiantly stubborn in the face of pigeonhole analysis and the megacity's collective food culture is equally obscure.
Los Angeles after all, is El Cholo, Fatburger and Roscoe's House of Chicken 'n' Waffles. Los Angeles is Canter's Deli in Fairfax and Patrick's Roadhouse in Santa Monica. Los Angeles is Spago Beverly Hills and lunch with Hollywood power brokers at The Ivy and Mr. Chow. Wander away from Downtown Los Angeles and the city is a gumbo of ethnic 'hoods like Chinatown, Tehrangeles, Koreatown, Little Armenia and Little Ethiopia.
A good, basic food tour of Los Angeles could involve some of these institutions and points of interest. In order to pique the palates of judicious gourmands however, one must, without fail, delve deeper into the city's complex culinary psyche. These ten hot spots, as a collective, embody what L.A. food can be all about.
Kogi Korean BBQ Taco Truck
A wave of iconoclast food trucks have hit the reset button on urban America's culinary landscape and led to a new, unlikely breed of star chefs. Obligatory Twitter feeds from these rogue pushers of artisanal sandwiches, gourmet ice cream and boutique pork belly buns divulge a cult-like coterie of ravenous followers. One of the most inventive vendors to emerge out of the scene is L.A.'s insanely addictive Kogi Korean BBQ Taco Truck. Co-founder Roy Choi, a Culinary Institute of America alum, won Food & Wine's "Best New Chef" in 2009 – perhaps the most unambiguous sign that a new foodie era is upon us.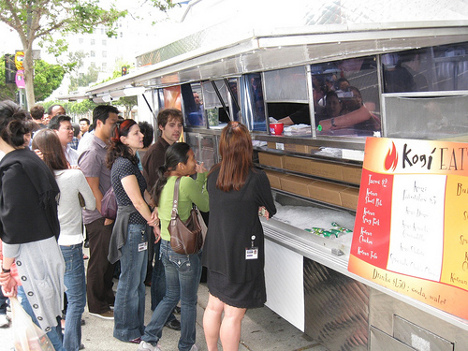 Photo credit arndog
In-N-Out Burger
Devotees of In-N-Out speak of the legendary burger joint with unabashed reverence. After more than sixty years, the regional chain remains private and happily devoid of the franchise tag. For a decadent but quintessential experience, consult the secret menu and order a "Double Meat", "Animal Style".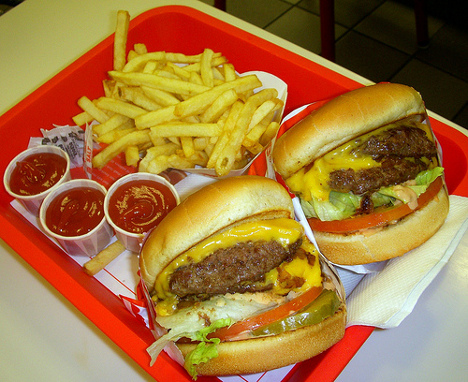 Photo credit LWY
Silom Market
Hollywood Boulevard's Silom Market is a vital Thai Town hub and offers a wide range of niche treats, from taro chips to elusive desserts.
The Grilled Cheese Truck
Another mobile icon of gourmet goodness, the Grilled Cheese Truck has 20,000 Twitter followers (with a bullet) and hits L.A. streets with items like Serrano ham, Manchego cheese, rocket and fig jam on potato bread and heirloom tomato caprese melts.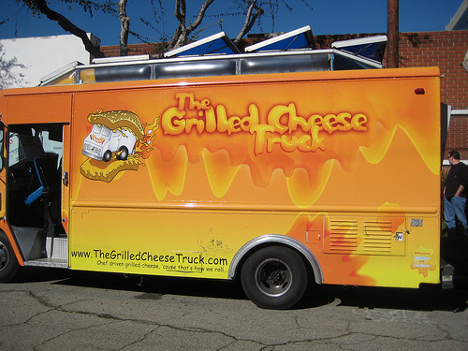 Photo credit ricardodiaz11
Sunday Hollywood Farmers' Market on Ivar and Selma
The secret to the best farmers' market in L.A. is to get there early, stock up and scout a choice picnic spot. From fresh local produce to a diverse array of ethnic foods, this is the place to be on Sundays.
Sweet Rose Creamery
Arguably the best gourmet ice cream in Los Angeles, Sweet Rose Creamery in Santa Monica does it up small batch, artisan style with organic eggs, organic milk and cream and homemade cones and sauces.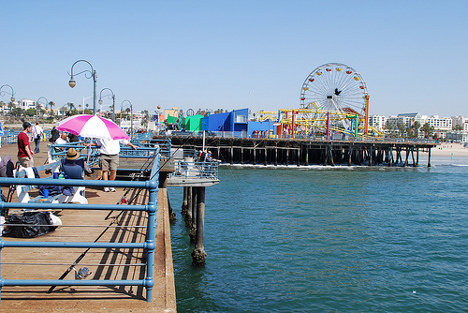 Photo credit wolfsavard
Urasawa
If you can afford one decadent, transformative, blow-out gourmet adventure in Los Angeles, make a pilgrimage to Urasawa. By all accounts the most expensive restaurant in the city, Urasawa's omokase menu for two easily tops $1,000.00. The extraordinary price-tag rightfully includes hedonistic morsels of prime luxury items like foie gras (done shabu-shabu style no less), uni, abalone, succulent wagyu beef, matsutake mushrooms and plump toro tuna belly. While dinner at the Rodeo Drive address can run four hours and 45 courses long, the experience is sufficiently transcendent if you abandon all reason and a proclivity to fight pleasure. Translation: forget about the tab, disengage and taste.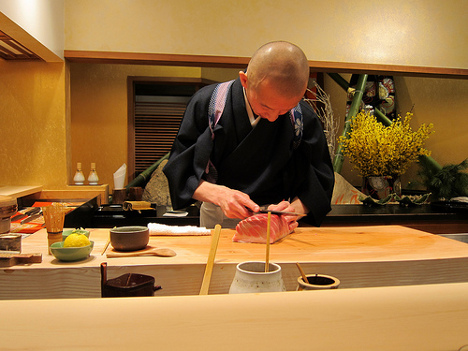 photo credit casesimmons
Langer's
The deli debate in L.A. is ceaseless. Who has the best nosh? The best matzo ball soup? As a tourist in L.A., all you need to know is this: go to 7th and Alvarado, kitty-corner to MacArthur Park, walk into Langer's Delicatessen and order the #19. The pastrami Reuben could be the best deli sandwich in America.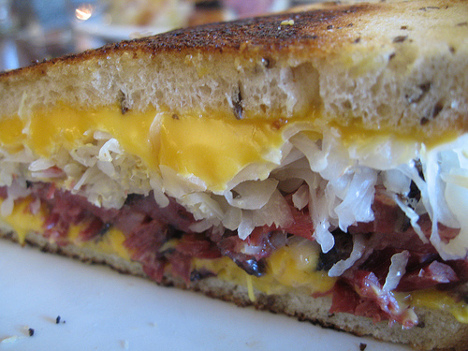 Photo credit Ron Diggity
Umami Burger
Every superior fast-food burger needs a gourmet counterpoint. In L.A., the archetype of the former is In-N-Out. Umami however, the new high-end burger chain on the block, takes every permutation of the burger experience – bun, meat, accompaniments, condiments and drinks – to ridiculous levels.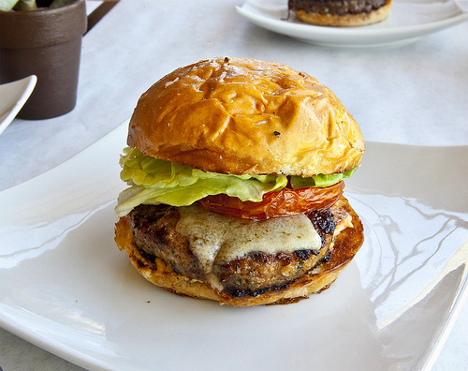 Photo credit yogma
Animal
The most impossible reservation in Los Angeles is a restaurant fed on the same trashy chic, wanton, over-the-top sensibility that drives two influential Montreal tables: Au Pied de Cochon and Joe Beef. Animal's carnivore-centric menu evolves daily and is not for the faint of heart (a likely menu item).
—————————————————————————————————–
HotelClub is a world leading hotel booking site, offering cheap Hollywood hotels.